Thanks for your lovely responses to my last post, I've got a few ideas brewing in my head now and hope to start creating them soon – I'm a bit busy this week and I'll be away again for the bank holiday weekend but after that it should hopefully be all go! :)

Today's mani is nice and bright :D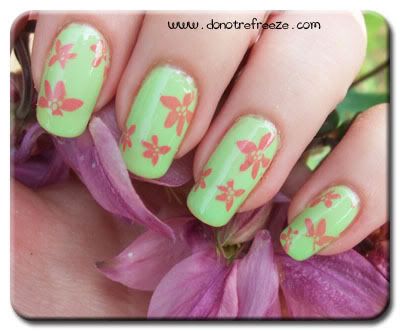 I bought OPI's Gargantuan Green Grape a couple of months back and this is the first time I've actually used it, haha. Unfortunately it's not my favourite, the formula is a little bit too thin and there's still a bit of visible nail line after 3 reasonably thick coats. But it's SUCH an amazing colour! I'll be honest, I'm getting pretty bored of mint greens (I must have about 10 of them) – this is such a refreshing change! Bright, bright, bright grape green, I love it!
The flowers were stamped with China Glaze Sugar High and flowers from Konad plate M57. I really like this actually, it kinda looks a bit Hawaiian dontcha think?