I'll be honest – I've only ever tried once Nails Inc polish before, and that was one that I won in Charlie's giveaway (Queen's Park, if you're interested). I'm just not up for paying £10.50 for a nail polish – and the colours that come free with magazine promotions every now and then have never appealed to me. So all in all, I wouldn't have said that Nails Inc is a brand in which I have a whole lot of interest.

But yesterday morning, a press release landed in my inbox featuring colours I really like the look of, inspired by the four fashion capitals of the world, along with a brilliant promo.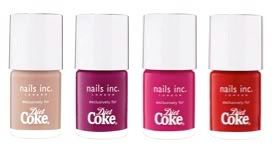 Introducing the City Collection – between 5th May and 30th June at participating Boots stores, you can score one of these four nail polishes for free with the purchase of two 500ml bottles of Diet Coke. I don't even drink fizzy stuff, but for the chance to try some of these lovely fashion-forward colours at a fraction of the price Nails Inc would normally cost, I can't really say no. Can you?
:: London is a trendy nude colour, inspired by Brit passion for cool fashion.
:: Paris is a deep purple, a tribute to the most romantic city in the world and a beautiful sunset over the Eiffel Tower.
:: New York is a vibrant fuchsia pink inspired by the attitude of the city that never sleeps.
:: Milan is a fiery Italian red (apparently they couldn't think of a more poetic description for this one haha).
Will you be chugging Coke for these then? I'm really keen on the look of London, Paris and New York. How about you?
P.S. Can I just say that promo image goes SO WELL with my blog background? :D Haha
EDIT: Rachel of Beauty Fiend asked a good question – 'How does this work then? Do you just produce two coke bottle wrappers at boots and they give you the varnishes or do you have to send off for them?'. I emailed to ask and got a reply that Hannah had already given in the comments (thanks)! The polishes are just displayed next to the Coke and you take the one you want to the till with you. I can predict a quick sell-out of London, then!