I've been meaning to do this post for a while now, and thanks to Kim posting her storage solutions I've finally got around to it!

I kinda shocked myself doing this actually, seeing how much my makeup collection has grown out of control in the last 9 months, and my polish collection in a meagre 4 months! Here was my polish storage on the 7th January this year, and here's my makeup storage on the 29th July last year. Pretty modest, right? Not anymore XD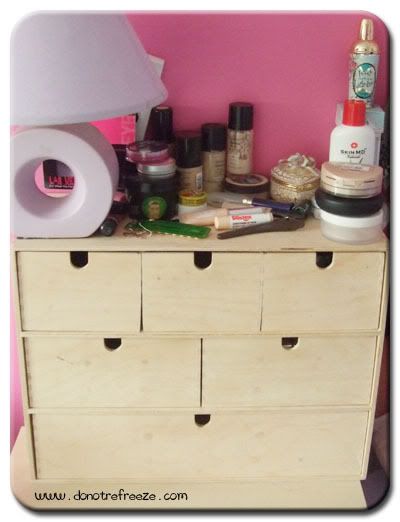 I still store my makeup in the same Ikea drawers as before (and I STILL haven't been bothered to paint them haha), except now they're kinda overflowing. Foundations, lipbalms, moisturisers, perfume, and a little trinket box full of false lashes live on the top. Blushes, contour powders, highlighters etc live in the top left hand drawer ('cept ELF HD Powder which sits on my desk next to my brushes). Mascaras and eyelash curlers go in the middle drawer – you can tell that Maybelline Colossal is my most used at the moment 'cause it's at the top :) and my billion eyeliners go in the the top right. I don't know why I have so many eyeliners; I've got so many colours in liquid, pencil and gel forms and a load of glitter ones… but I only ever really use black felt tip liner and black kohl! Haha, I occasionally use purple if I'm feeling brave ;P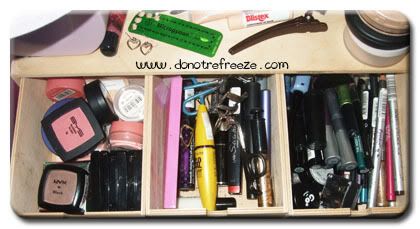 In the middle left hand drawer you'll find single/duo/trio eyeshadows, pigments, cream/liquid shadows, all sorts of eye primers etc. If you look at my old makeup storage post you can see I had barely anything so it was all nicely ordered – now I don't even know what's lurking in this drawer 'cause I can't be bothered to root all the way to the bottom of it! This is getting ridiculous… Similar story for the right hand drawer where lip products go.
Palettes go in the bottom. In here you'll find quite a bit of Sleek, Urban Decay, some MAC, Inglot, that old Eyeko thing I got at the anime expo over a year ago, and somewhere right at the bottom is my neglected 120 palette. Haha :)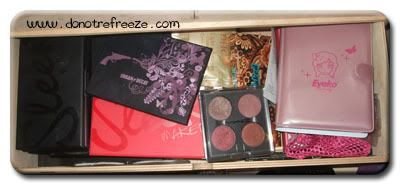 Okay so that's makeup done… brushes live in 2 vases on my desk. The purple one on the right I've had for years, it used to have a fake plant in it and it's now home to face and lip brushes. I got the pink and red striped one for £2 at a charity shop several months back that houses my eye brushes. The vases are filled about halfway with glass beads (don't have any vase filler ;P) to keep the brushes standing mostly upright.
Now let's move onto polish. This is the middle shelf of one of my cupboards, you can see on the left there's a ton of makeup books and magazines, and pages I've ripped from other magazines with inspirational pictures in. The hefty filing drawers were donated by my dad when he rearranged his study. They're not exactly pretty but they sure as hell do the job!
My polishes are pretty much organised by brand. In the top drawer you'll find China Glaze, OPI, BYS, Nails Inc, Color Club, GOSH, Revlon, Guppy, Model's Own, Urban Outfitters, and a whole bunch of topcoats and basecoats.
In the next drawer down, there's Eyeko, Barry M, Maybelline, Collection 2000, Bourjois, Rimmel, NYX and a few other random ones. At the back you can see the majority of my nail art stripers thrown in!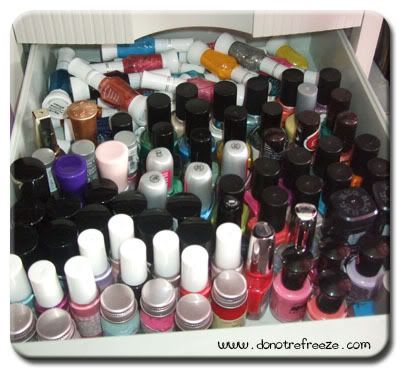 The bottom drawer is where nail art and care stuff lives :D cuticle oil and remover, files, buffers and other tools, nail art brushes, dotting tools, SmART Nails stickers, Konad stuff, rhinestones, other decals, nail wheels, glitters, other stickers and transfers, and my black and white stripers – these are kept in this drawer rather than with the others 'cause they're pretty much the only ones that get used! Haha.
Sooo that's how I store all my junk. I think I've developed a wee bit of a problem >_