(I don't want to seem like I'm spamming you guys with Sleek posts, I promise I'm not. I just want to show you this for now then I'll shut up about the brand until I've interspersed it with some different posts. Okies?)
Sleek have brought us another one of their cult-status iDivine palettes, due to hit the shelves of Superdrug in July. I'll confess – when I had a look at and swatched this palette at the event, I wasn't crazy about it. I felt the colours were too bright for me, and the artificial purple lighting in there didn't really help do justice to the colours. Regardless, I knew I had to bring you the scoop since it's bound to be a quick seller. So as I was sitting in my garden taking pictures of the pans and swatching in true light… I fell in love!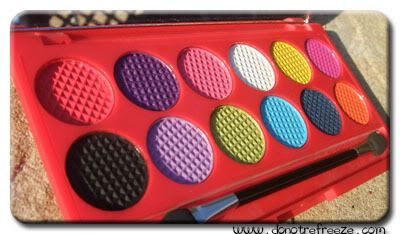 There's a decent mix of mattes and shimmers, including the obligatory matte black that lives in every Sleek palette. As always, the shimmers are of wonderful quality – lovely and smooth! The mattes surprised me as I have trouble with finding decent matte eyeshadows that don't cost the earth – there are two that were pants as you'll see in the swatches below but the others are spot on.

The six shadows on the left side of the palette…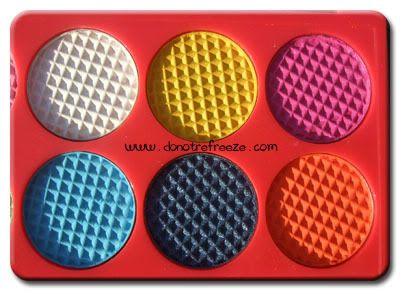 And the six on the right.
I did spend a good few minutes gawping before reluctantly shoving my little mitts in there to spoil its pristine condition! The swatches are taken in the same way as the pics above – the 6 left ones followed by the 6 right. All swiped once onto bare skin – Enjoy!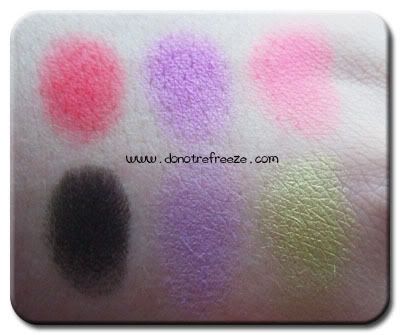 Okay, so I'm officially LOVING all over all of these ones. The metallic lime green is unlike anything I already have! The only slight disappointment here is the matte lilac (middle bottom) – that's a couple of swipes although everything else is just one. It's a pretty shade but needs a bit of perseverance for a good payoff.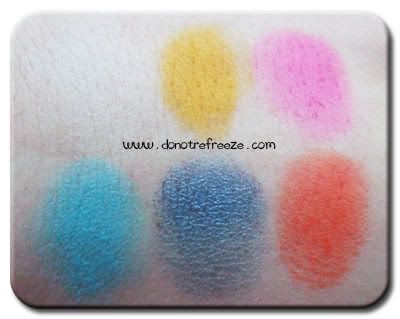 Let's not even mention the white – you can't see it! That's the biggest let down in the palette, but I managed to use it as a brow highlight. I wouldn't normally use a matte white as a highlight shade but because it's so weak it doesn't look nasty and stark! Haha. The bright matte yellow, blue and orange are almost frighteningly pigmented, but I'm totally looking forward to creating some looks with them (I actually used a tiny bit of the blue in the look below). The metallic blue is freaking gorgeous, and I love the half-matte-half-shimmer kinda finish to the fuchsia pink colour on the top right (these are both featured below too).
Of course, I had to show you the first look I did with the palette. As I was swatching, so many different ideas for looks I could create flooded my poor little brain. Amazing really, since it did nothing for me the first time I looked at it!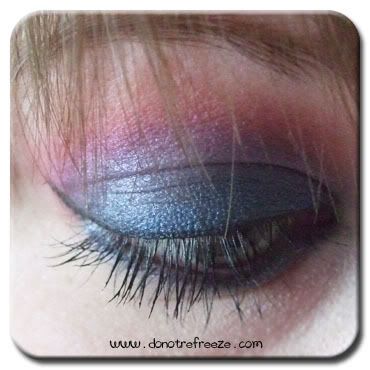 Over Kryolan Eyeshadow Base, I applied MAC Sharkskin Shadestick to my lid for a black base, as well as along my lower lashline right to the inner corner. I blended the matte light pink through my whole crease, taking it up quite high and creating the shape I wanted. Then I mixed the dark purple with the fuschia pink and took this through my crease too. I blended for what felt like forever to get it exactly how I wanted it! The matte white was a brow highlight, and later on a highlight for the inner corners. Then I patted the metallic blue over Sharkskin (phwoooarrr), and patted a little bit of the matte light blue in the center of the lid to highlight it. It's not super noticeable in this pic though. I finished off with Sleek's black kajal liner on both waterlines, Anastasia brow pencil, Eyeko grafitti liner and my favourite Maybelline Lash Stiletto mascara.
Really hope you like! Like I said, this palette will be available in July. When it's released, I may buy one for a giveaway I like it that much! Keep your eye out, won't you? x