I'm sorry, I know I haven't done one of these for ages! And I know that I was kinda meant to do some embellished French tip designs 'cause they came second in my poll but as you know I broke a couple of nails at the Sleek event so I've had to cut them down – and I'd rather wait until they get a bit longer before I do French ones! So in the meantime, I hope you enjoy these corset inspired nails!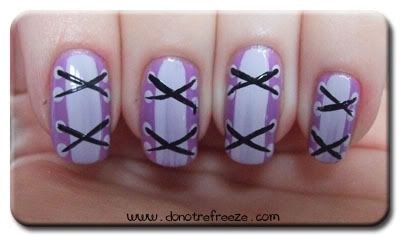 I swear this is probably the easiest design I've shown so far! I used Maybelline Goody Plum Drop as my base colour, and the lilac strip and dots are China Glaze Light as Air. The black is a generic eBay striper!
The first step is to paint a strip down the middle over your base colour – this could be a lighter shade of your base colour or a white or something. You can use a nail art brush to do this if you want, but it's easy enough to just use the brush on your polish.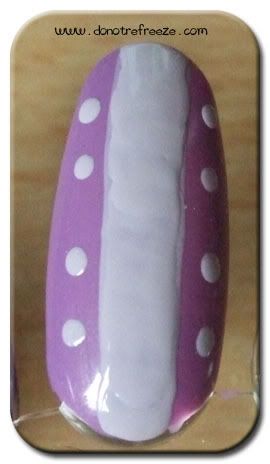 Now make 4 dots down each side of the strip (dotting tool, cocktail stick etc). If your nails are particularly long you might wanna do 6, or if you have teeny tiny nails you might not have space for more than 2.
Take a black or a darker colour – I used a black nail art striper but if you have a thin nail art brush you can use any polish you have. Make criss-cross lines between the dots to finish the design, and seal your handiwork with a topcoat. HOW easy? :)
Hope you enjoy!
I bought my dotting tools, nail art brushes and stripers from here.