I'm sure there's been plenty of bloggers more quick off the mark with posting this than me, but I only just got home this afternoon! Forgive me if you've already seen a million posts on this already, but I can't not post about such a fun day.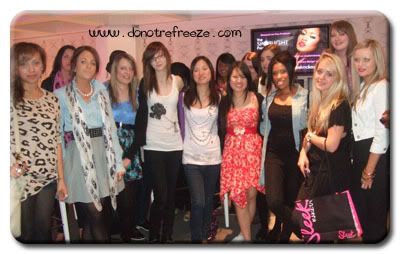 A questionably flattering group shot, unfortunately with a few missing.
I was one of the bloggers lucky enough to be invited to Sleek MakeUp's first Bloggers' event yesterday at All Star Lanes. Zoe and I met a little earlier in Covent Garden for the most pathetic spending in MAC ever, then headed over to Brick Lane for the event. After a lengthy wait just inside the entrance, we were shown upstairs to the private lanes.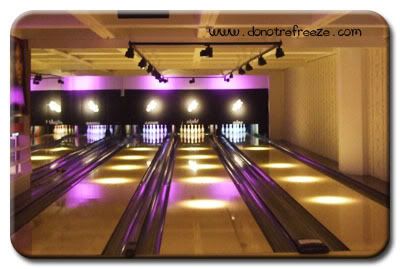 Lavly! The lights at the end over the pins changed colours :)
Tracy from Sleek gave us a quick introduction to the brand for those who weren't familiar, and explained what would be happening during the event. Apparently, Sleek is over 20 years old! I did not know that, I always thought it was a relatively new brand but I guess that's because it's only really become very popular over the last year or so.
We were divided into three groups so we could make the most of each of the things they had planned for us, including swatching and playing with upcoming and existing products, the chance to see (in basic terms) how makeup is made in the Sleek lab, custom foundation matching, optional makeovers, a big suggestion board and a little area with Macbooks so we could even blog from there if we wanted to! I felt quite fortunate to be part of the group that got let loose on the product tables first so we could have a good nose whilst they still looked pristine!

Product tables – unfortunately the lighting made it impossible to get accurate swatches but I have a few products to show you soon!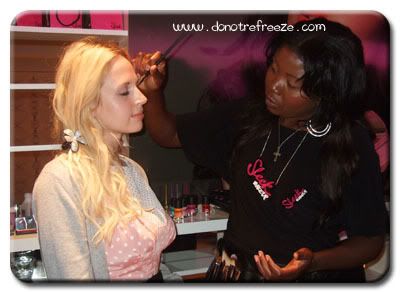 Zara being treated to a makeover – she looked stunning!
Then… we bowled! As I'm sure most of you are aware by now, the first prize for the bowling competition was an all-expenses-paid trip to The Makeup Show in New York, which was won by Sophie – congrats! For someone who hasn't bowled in YEARS I think I did pretty well (got a few strikes at least) but not quite well enough to win any of the top prizes! In fact, disaster struck… Yknow how long my nails normally are, right? Look at what happened on my first bowl!

I genuinely nearly cried. Look at the middle one! Everyone was so sympathetic, haha.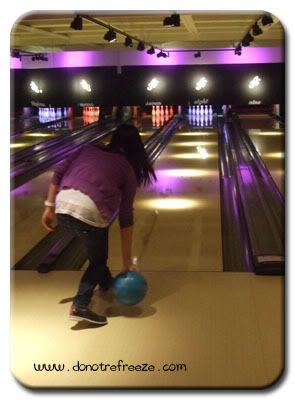 Fei bringin' it home! Haha :)
Despite my talon tragedy, I still had a whole load of fun (and some really tasty canapes!). Thanks ever so much to the girls at Sleek for organising the event, and to all the gorrrgeous bloggers I got to meet, or put up with again in some cases ;P nah I'm kidding!
We were of course all delighted to waltz off with well stuffed goodie bags, crammed with exclusive items which I can't wait to show you properly!
Well, that's it. I'm officially knackered (the day's excitement is finally catching up with me) but I'm off up the road to my local polling station! First time voter here ;P. Hope you're all well, and speak to you soon! xo
By the way… if you want to see some much nicer pics from the day, be sure to check out Zoe's post – her photography skills did the day much more justice!