(Don't let this stock image deceive you… 002 Vanilla is the lightest colour and it's darker than that in person)
I was recently sent Revlon's PhotoReady makeup to try out. I was really eager to see how I got on with it after hearing about the sparkly-ness and all that jazz. The first time I used it, I HATED it. I felt like a disco ball. But yesterday, I decided to give it another chance.
Packaging: MUCH more convenient than Colorstay as it features a pump – finally, Revlon! I also prefer the bottle design. The amount of product you get is the same (30ml), which is good since they cost the same. One pump is a bit more than I need to do my entire face, but whatever's left on the back of my hand can be used on my neck so it doesn't matter.
Coverage: I'd say medium. In the picture below you can see it doesn't completely cover the freckly thing on my cheek like Revlon Colorstay does. That freckle is useful, it's a good measure for foundation coverage! PhotoReady successfully covers my nasty little red patches and blemishes but it doesn't totally wipe out my freckles, which I like.
Application: Difficult! The first time I used this I applied it with Revlon's foundation brush which was also sent to me. Because the consistency is a lot more fluid than Colorstay I found it a lot harder to blend, especially using that brush. I had quite a bit more success the second time using my fingers to distribute the product and ELF's flat top brush to buff it out, but I think I still need to get the hang of applying this one perfectly.
Finish: Uhmm.. How do I put this? Yes, it freaking sparkles. Personally I've never really been one to go for 'the dewy look' although it looks nice on other people, my skin tends to be a bit oily so I never look dewy, I just look greasy. With this foundation, it seems to dry kinda semi-matte but with sparkles.. it's weird. I didn't like it at all until I powdered over it with ELF Studio HD powder – now there's a combo I like! These two together give my skin a weird hybrid of glowing matte skin… haha. The sparkle is actually starting to work for me a bit, provided it's powdered.
Staying Power: Pretty good. It was a hot day yesterday – I applied my makeup about 10am. I was looking a little bit shiny by lunchtime so I powdered over my T-zone and it was fine. I took the dog for a looong walk in the afternoon, and it was a little bit patchy when I got back but with another powdering it was still passable. It was too patchy to be acceptable by about 4.30pm, so that's what, 6 and a half hours? But I did wear myself out walking the dog and it was a hot day. I'm sure in an air conditioned office it'd be better!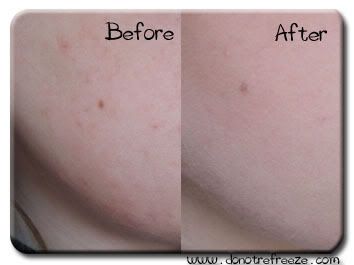 ('After' shows the foundation applied with fingers and buffed with a flat-top brush, set with ELF HD Powder)

So to sum it up…

Pros
:: SPF 20 (vs Colorstay which is SPF 6)
:: Reasonable coverage
:: Pump bottle!
:: Doesn't really have a smell like Colorstay does
:: I haven't broken out! If my skin doesn't like a product, I'll start sprouting some super sexy spots within hours of it being on.
:: Reasonable longevity with a few powder touch-ups

Cons
:: Not very easy to blend
:: Limited shade range
:: Still not quite sure about the sparkle…

I realise that the finish of the foundation could be just PERFECT for photography, but since I don't really get photographed that's not a huge factor for me, haha. Aside from my own crappy FOTDs of course.

Overall? The jury's still out. I don't hate it like I thought I did, but I don't love it yet either.

Have you tried it? What did you think?
The featured product was provided by Revlon for review consideration. Regardless of how I obtain I product, I will give an honest opinion. 'Kay?