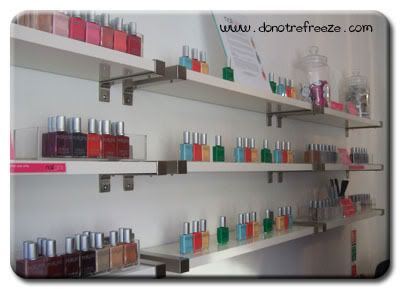 You're all familiar with the gorgeous Sarah of I Heart Cosmetics, right? If by some small miracle you're not, I highly suggest you go check her out now ;D – anyway, Sarah was nice enough to invite me along as her plus one to a nice little event at the Nailgirls Spa in Islington on Wednesday night. The ladies there were so friendly, and even though I was just a guest they knew who I was and knew my blog, that was super flattering :) hello girls if you happen to read this!
The purpose of the event was to introduce us to their new Summer 2010 collection, comprised of Aqua #2, Coral #1 and Yellow #3. You can see these on the middle shelf in the picture above, sorry but I didn't think to really take many pictures! I was particularly enamored with the Coral shade, and if I do decide to buy one it'll definitely be that; it was certainly an original shade, more leaning towards the pinky peach side than the red side of coral – lovely!
I had a really nice evening, mostly spent chatting away with some great bloggers. I was super pleased to see Yinka there, and I also met Jen and Louise. The place itself was so nice, especially the 'Spa Garden' where clients can chill out after a treatment (you can also even watch a movie inside after your treatment.. how cool is that?). They are celebrating their first birthday next month, and they've done so well! With over 60 different colours of nail polish to their name, the independent company have made a name for themselves and are often featured in the press.
On our way out, we each got a free nail polish. Mine was Blue #2 – I'll confess, I've never been a great lover of blue polish on me but Colin keeps nagging that I should wear blue, so he was pleased. I actually quite liked it, although I wasn't expecting the semi-matte finish (not that I ever wear polish without a topcoat anyway). It applied really smoothly and evenly, it was exactly the sort of consistency I like in a polish – not too thin and runny and not too thick and gloopy) and each coat dried SUPER fast.
I thought I'd get away with two coats but there was just the slightest bit of visible nail line going on so I slapped on a third – I'm sure it wouldn't have been noticeable to anyone else but you know what I'm like! Instead of just applying a regular topcoat and leaving it, I figured that since I was wearing a colour out of my comfort zone I might as well just go crazy! So I did some leopard spots and finished with China Glaze Wireless Holographic topcoat. :)
Nailgirls polishes retail at £10 and can be bought online fom nailgirls.co.uk, in store at the Spa (50 Cross Street, Islington), or you can mail order by telephoning 020 7359 2772.