I'm really, really out of practice with Konad so I decided to have a little go at it this evening.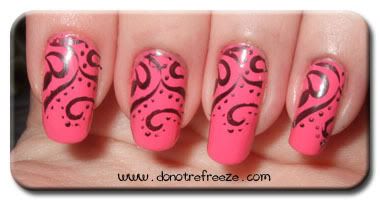 This is 2 coats of China Glaze Sugar High, and the design is from plate M64 stamped with Color Club Dark Romance. But, I keep my nails a lot longer now than I used to when I constantly wore full-nail Konad designs so I had to try double stamping! I deliberately picked that design 'cause it's kinda 'open' at the end if you see what I mean – I wanted to see if it looked alright plain before I committed myself to double stamping. It didn't look too bad I guess, but I decided to try anyway.
That's MUCH better isn't it? :D I'm kinda proud. My stamping in general is a little rusty but nevermind. To double stamp without loads of overlapping I had to stamp upside down and move it to different angles and stuff – it was fun and challenging! I also like how they're not all identical, it now has more of an organic look which I love. :)
What're you wearing on your nails at the moment?