Are you afraid of colour? I'm sure as hell not. It's another nice sunny day today so I ditched my usual neutrals in favour of bright yellow, orange and pink. Why the hell not?! I managed to finish this look using mostly inexpensive products, too. The sun really washed out my face in the pics so you can't even really tell I'm wearing anything on my cheeks – I am though!

Haha, I don't even remember the last time I did an FOTD. Be nice!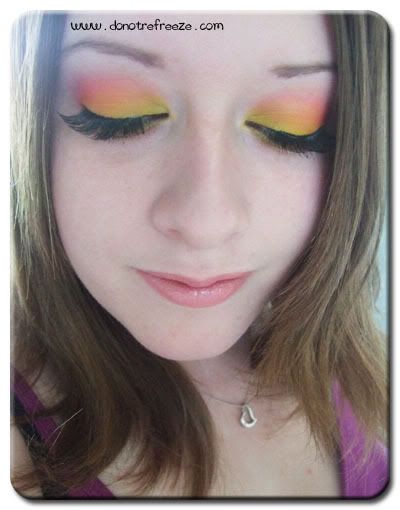 Fero Cosmetics light reflecting concealer
Lily Lolo mineral foundation (Porcelain)
NYX powder blush (Taupe) to contour
Illamasqua powder blush (Hussy)
17 Blush & Glow (Strawberry Swirl) to highlight
NYX jumbo pencil (Milk) as a base
120 palette eyeshadows (2 yellows, 2 oranges, 2 pinks, cream highlight shade)
GOSH velvet touch eyeliner (Black Ink)
Eyeko Graffiti liner pen
Maybelline Colossal mascara
Anastasia brow pencil
99p store lashes!
17 Shine On lipstick (Flirty)
Barry M lipgloss wand (4)
Is the sun tempting you to break out your brights yet?