I'm really sorry for not posting in a week – they really are taking the piss at this apprenticeship. They're pretty much keeping there for 46 hours a week to thoroughly clean what they clearly haven't touched in months and none of them are making any sort of effort to make me feel at home there, so far they're very bitchy and seem to like making me feel like an outcast. Brilliant. But enough bitching about my personal life – got a polish to show you!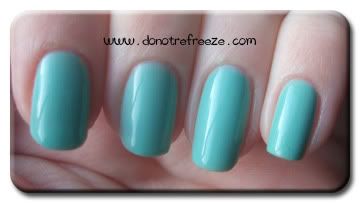 There was no way I was gonna turn down the opportunity to try out the new Eyeko polishes (I say new, they have in actuality been out for a few months now). Despite the infamous application issues of their original polishes I was a big fan of them as perseverance was key, they were lovely colours. Thankfully this new formula appears much less prone to streaking and this is also probably due to the brush which is a lot softer and easier to work with than the original one – if you ever owned one you'll know what I mean that the brush used to be made of quite stiff, hard bristles which was a large factor in the streaking.
I applied two coats here which was enough – a vast improvement on the old ones (particularly Pastel and Pretty polishes, incidentally my two favourite ones) which took about 4 coats to achieve a good streak-free opacity. There was the slightest bit of Visible Nail Line going on after two coats though; a third would have fixed it but it wasn't noticeable enough for it to be necessary, I was just scrutinising. As for the colour, I think it's pretty similar to Barry M's Mint Green but more opaque and perhaps leaning a touch more to the green side. That's just thinking about colours off the top of my head though, I'll have to do a side-by-side swatch for you when I get a chance.
All in all, very impressed so far. I wore this colour plus Poshe topcoat for three days with minor tipwear which is quite impressive when you consider the amount of cleaning and crap I've been doing. To conclude – a massive improvement on the original brush and formula, just at the cost of the cute little bottle! Eyeko polishes retail at £3.50 each and can be bought on the Eyeko website. Don't forget the dozens of ambassador codes floating around in the blogosphere which get you a free gift with your purchase, and they offer free shipping worldwide with purchases over £35. Here's a picture with flash, and with that, I'm off. Take care! (I'm away for the Easter weekend by the way, hence Twitter absence. And sorry if this post is a bit incoherently written, it's almost 4am. My sleeping pattern gets way out of whack when I stay here haha)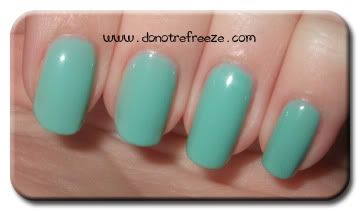 Disclaimer: The product featured in this post was sent to me for review consideration by Eyeko. Not affiliated, did not receive monetary compensation for this post yada yada yada.
By the way; I noticed a couple of days ago that I passed 500 followers. Thank you! I know it's sort of customary to host a giveaway when reaching a milestone like that but I did recently host a giveaway and my Fairytale Nail Art contest is still going on. Due to a lack of entries, I've decided to extend it for another week so it's now open until the 13th of April. Please don't be shy to enter!