Okay so I never took French at school, but I'm pretty sure that 'mon petit chou' is a term of endearment in French, yeah? And it means something about cabbage? Someone please enlighten me in case I sound like a complete tool :) haha.

I received a nice unexpected package from Eyeko this week, including 5 new polishes.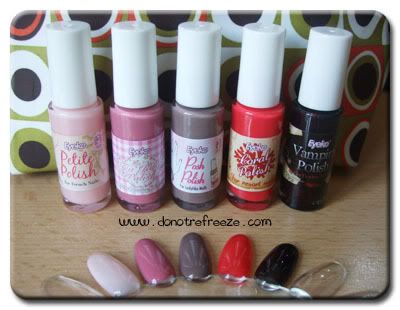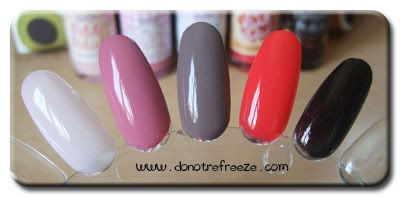 L-R Petite Polish, Tea Rose Polish, Posh Polish, Coral Polish, Vampira Polish
As you can see, Petite is a lovely sheer pink meant for French manicures. Tea Rose is a luscious rich pink creme, with the capacity to be a one-coater if you apply carefully enough. Same goes for Posh, a really grown-up taupe colour. Coral is pretty cool, almost bright red and a formula hovering somewhere between jelly and creme, somehow! Vampira is a gorgeous black shot through with tons of fine red glitter – my photo doesn't really show it off but I have a feeling this might be a reasonable dupe for China Glaze Lubu Heels (which I don't have so can't compare! Haha).
Tea Rose and Posh are a bit on the thick side, but you gotta take the rough with the smooth and these are super opaque so that makes up for it. They are definitely all a touch more quick drying than the last lot of polishes.
So anyway, I love muted dusty looking colours at the moment so the first one I whacked on was Tea Rose. I then decided to break out the Konad since I've been neglecting it lately! I used BYS Lila Bliss and plate M65 to create this really subtle girly manicure.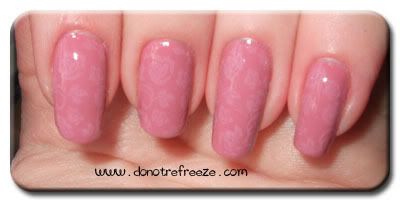 The next one I tried was Coral Polish, after seeing Bicky's post with GOSH Rainbow layered over red I decided to slap it on over Coral. It's really cool how the flakes in Rainbow kinda show different faces when layered over different colours – it goes from stark orange and green over black, to more golden yellow over red!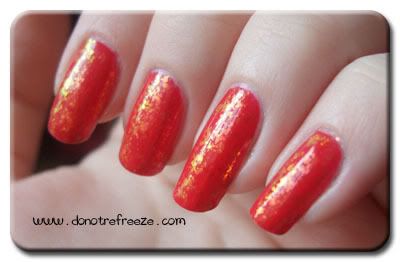 Now, I'm sporting my first French manicure in years. In fact, it might be the first one ever 'cause I could never do it before. Haha. A couple of you might have seen how hideously stained my nails are, particularly at the tips – they're a nasty yellow colour from the amount of polish they're subjected to (yes, of course I wear a basecoat) so I always thought I'd never be able to wear a nice, pretty French mani. But last night I decided to give it a go with Petite Polish since I now actually owned a sheer polish to try it with. It's only polish after all, so it can be taken off!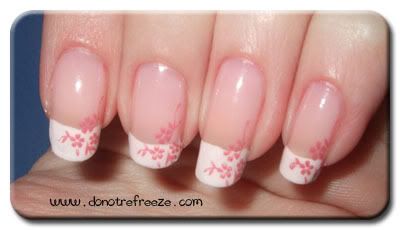 But, I really loved it! The staining isn't too apparent at all! I did the tips freehand using Color Club Alabaster – they're not too bad for a first go I don't think, and a damn sight better than any of my attempts to use Konad's M19 plate – followed by two coats of Eyeko Petite. Lastly I thought it needed a bit of jazzing up (you know me, can't leave a good thing alone) and stamped some flowers from plate M4 with Tea Rose polish.
So, how do you like them?
Eyeko polishes retail at £3.50 each and can be bought here. Don't forget to find one of the many ambassador codes floating round the internet before you order at Eyeko for a free gift with your purchase! (I also highly recommend Vintage polish whilst you're there, by the way ;D)
These products were provided by Eyeko for review consideration. I am not affiliated with Eyeko, or indeed any company. I don't receive any monetary incentive for my writing, and as always my reviews are 100% honest. Get it? Got it? Good. Now piss off, FTC.