The response I got on the poll I posted yesterday was a lot bigger than I expected, so thank you for your votes! Cherry Blossom won by the long shot – 30 out of 42 votes at the time of writing this! I'll keep the poll open to see which of the other two options gets more votes by a few days' time to see what I'll do for you next. Here's the Cherry Blossom design I'll be showing you: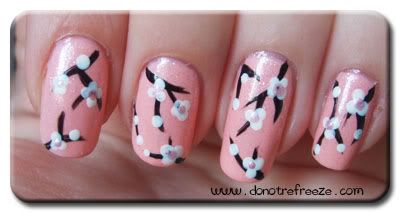 I must say, it looks a lot better as a full manicure than it does on the one display nail. Don't you think? Anyway, let's roll:
Apply your base colour. I went for a slightly peachy pink – this is Sweetie Pie by Maybelline (unfortunately this one isn't available in the UK, don't you just hate how the US and Canada get soo much more stuff than us from the same brands? Anyway…). I also added a layer of Collection 2000 Sparkle topcoat to add a bit more interest to the background – subtle but pretty I think.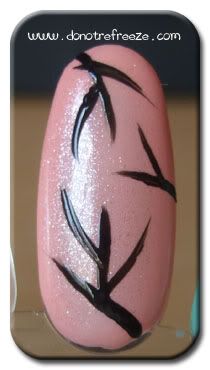 Using a black (or brown if you prefer) nail art pen – or just a regular polish and a nail art brush, whatever you have – draw the branches for the blossoms. Try to taper the edges a bit if you can, and the lines should probably be a little thinner than I did them here but I don't think it matters too much!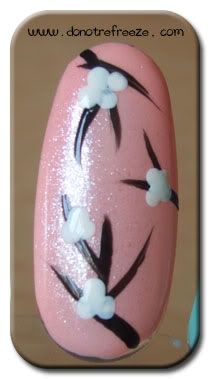 Take a white polish and a dotting tool and create flower shapes made up of 3 or 4 small dots in a few places on the branches. I think they look really good at points where branches intersect.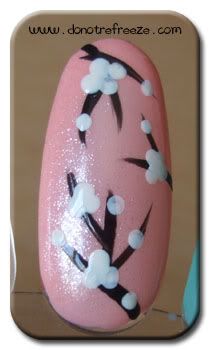 Add a few more little white dots – this is probably a bad example, I think I went a bit overboard here.
To finish, dot the centre of the flowers with a darker colour. In this example I used a bronzey colour, but in the full manicure at the top of the page I used a medium pink shade. It's entirely up to you!
Really hope you enjoyed this, and as always please throw a link my way if you decide to give it a go!