I think I'm just about starting to get more into the routine of having NO FREAKING TIME. It seems the easy peasy nail design tutorial I did a couple of weeks ago was received quite well, so I'm thinking of starting a little series of them. Yay or nay? Even if the general consensus is nay, you're getting a second one now anyway ;P
I made this design up on my nails before deciding to do it as a tutorial. I know it's a bit too bold for some but obviously you could use whatever colours you wanted and you could skip the zebra stripes altogether, either leaving it plain or perhaps even using the gradient background for flowers like in my last tutorial or whatever you fancy. I just thought this was a pretty cool use for those horrible sponge tip applicators that companies always insist on throwing into eyeshadow palettes. Don't throw them away, use them for gradient nails!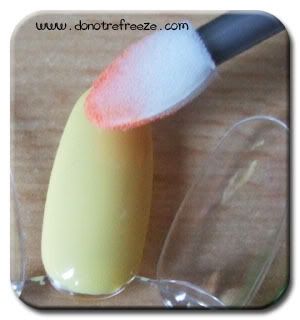 So first, obviously, pick your base colour. You could do the darker colour at the end and work up to a lighter colour on the tip, or vice versa. I went for bright summery colours, and my base was China Glaze Lemon Fizz. Then, blob a bit of your second colour (mine was China Glaze Peachy Keen) onto paper and evenly distribute some on a clean sponge applicator. Start at the tip of the nail, dabbing and patting the polish on. You want the colour to be more concentrated at the tip, so work down the nail as the sponge starts to run out of polish, if you see what I mean. It should look something like this: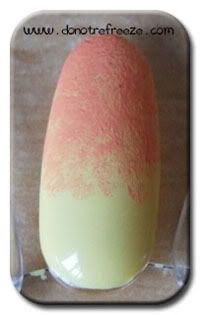 Then you'll wanna repeat that step with your next colour (this one is China Glaze Sugar High), but don't work quite so far down the nail this time. That way, the middle colour acts as a transition between the base colour and the last one.
This is the point at which you can just apply a topcoat and leave it, or add on any design you like! I just did zebra stripes with a black nail art pen from eBay. To those of you who are new to nail art, stripes are a lot easier than they look, it's just a case of releasing your pressure on the brush as you come towards the end of a stripe to taper the edge.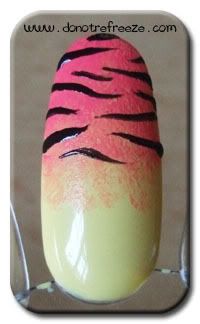 Lastly, apply your topcoat. I think a glittery or holographic topcoat works really well with this sponged gradient design as it helps make the colours look more smoothly blended. I used China Glaze Wireless Holographic.
Done! I hope you like it, and please show me if you try it out, I'd love to see :D
So, what do you reckon to a series (I'll try for one a week) of Easy Peasy Nail Designs? Let me know!