[[Edit: I just want to clarify that this post wasn't meant to offend anyone! I'm not at all looking down on those who love buying into hype. I just can't afford to ;P big hugs all round?]]

I apologise for not doing one of these in a while, been stuck for ideas! But here's one…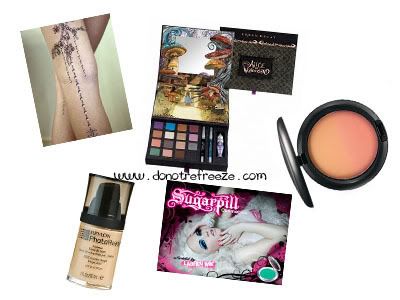 What do you think about products that are overhyped prior to their release?
Personally I tend to avoid the overhyped products more often than not for fear of being underwhelmed. I will freely admit that I really, really wanted MAC's Ripe Peach blush ombre but I didn't have any money when it was released and predictably the hype caused it to sell out within hours. LionLovingTiger found a reasonable dupe for it in her collection, though.
But take Urban Decay's Alice in Wonderland palette for instance. I never really wanted it since I own most of the colours anyway and didn't even like the packaging, but everyone was sooo psyched for it, weren't they? Now everyone's got it… and no one's mentioned it in a few weeks! Haha. Rhamnousia gave me another couple of good examples of that happening, with NARS Orgasm Illuminator and Chanel Jade nail polish.
Speaking of Chanel… You may have noticed in the picture above I included Les Trompe L'œil, Chanel's STUPID transfer tattoos. Sorry, are we 5 again? They did look fab on the catwalk, but that's where they should have stayed. Transfer tattoos will never be a good look, even if they come from a designer name. Yinka put it quite eloquently in this hilarious post, "If I see anybody in London wearing these, chances are I'll assume you got them from the bargain bucket in Claires Accessories". Hahaha.
Or what about Revlon's PhotoReady foundation? The hype caused many people I know of to buy it online at the moment of it's release on the Boots website without swatching in store or anything, all of whom have been extremely disappointed at it's 'Twilight' finish (yep, apparently it leaves you super sparkly. Not a good look)! Or the barrage of people hauling the new Sugarpill Cosmetics line 'cause all the YouTube 'gurus' are raving about it (don't forget a lot of those people are actually friends of Amy, the owner) – I'll be honest, they do look like amazing quality products but I'm sensible enough to admit they're not really my thing, they're not really wearable and I wouldn't get enough use out of them to justify the price tag. Haha, I don't know if you can tell but I've become a lot more tight since I lost my job ;P
Now, as much as I love Lady Gaga, I must confess I don't reeeally love the colour of her MAC Viva Glam lipstick. It was released today in the UK and Twitter has been awash with girls talking about it and ordering it. Come on, it's out for a year, no panic! From seeing swatches of it, it seems like quite a difficult colour to pull off thanks to the lilac-y undertones in it but it looks like everyone's just rushing to get their hands on it so they can say they've got it. That's one thing I've never really understood – if I don't like the look of a product, I ain't gonna buy it just because everyone is squee-ing about it. End of, really! I'm not saying I've never been tempted by products which are massively hyped before their release, but I normally put on my frugal cap and justify truthfully whether or not it's worth buying. I can't afford to be throwing money at things I don't need right now!

So, what about you? Do you always get sucked in by product hype and end up regretting purchases? Tell me!