Lately I've been trying to practice freehand nail art instead of relying on Konad all the time, and today I made a design I really liked using only dotting tools. If you're not sure what they are, let me assure you they are probably the most versatile and indispensable items you can have for nail art. Even if you're a total beginner, you can create some stunning designs with one of these like the one I'm showing you here. They're really inexpensive too, I got mine for £2.99 (free shipping) for 5 tools (with different sized heads for more varied sizes in dots) from PremiumPlaza on eBay. Incidentally this is also the store I got my nail art striper pens from ages ago, they're very quick to deliver if you're based in the UK.
Anyway! Since it was so super easy to create this design, I wanted to show you how. :) If you don't have dotting tools and for some CRAZY reason don't want to order any ;P, you can achieve a similar result with a very steady hand and the normal polish brush for the flower and a cocktail stick for the dots.
First of all you'll need to paint your base colour (or you might choose to do this straight onto your nails or over a French manicure, whatever you fancy!). I went for Barry M Grey here. Once that's dry, you can start on this bit!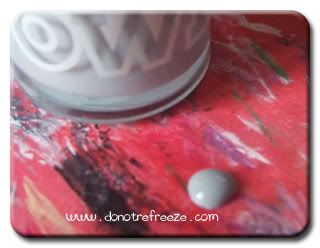 When using dotting tools I always drop a blob of my chosen polish (this one is Model's Own Misty Grey) on a piece of paper to make life easier. This filthy red bit of paper is what I always use when dotting, Konading or freehand painting!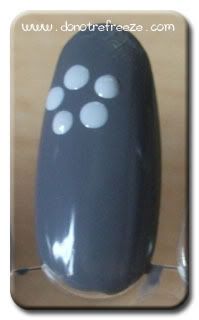 I only use one dotting tool for this whole design, the one with the largest head on it. So, I dip that into the polish and make 5 reasonably large dots in a circle, trying not to let them touch.
Very quickly, before the polish starts drying, flip the dotting tool over and use it's smaller head (most dotters are double ended) to drag each dot inwards to create the flower shape. Again, while the polish is still tacky, apply a rhinestone to the middle.
Still using the smaller head of the dotting tool, dip it into the blob of polish and create a curved line of dots like this from the top of the nail. As you can see the dots slightly decrease in size down the line – to achieve this with the same tool I just use a lighter hand as I go along, if you see what I mean.
Dip back into the polish and repeat from the bottom of the nail. Then repeat again from next to the flower. Finished!
Here you can see some more colour combinations for the same design. You can use any combinations you can think of! And of course you don't need to stick to just two colours. I posted a preview of this on Twitter earlier and Lydia asked me which polishes I used so here, from the left to right nails.
ChG Sugar High on ChG Something Sweet, Color Club Alabaster on ChG Peachy Keen, ChG Cherish on Color Club Wild at Heart, ChG Passion on OPI Russian Navy, Model's Own Misty Grey on Barry M Grey.
Hope you like, and please let me know if you try it out :)