After almost a solid week of getting nothing in the post (depressing, I know), the postman brought two lovely things yesterday! I knew that one was my contest prizes from Lady Gray, check those out: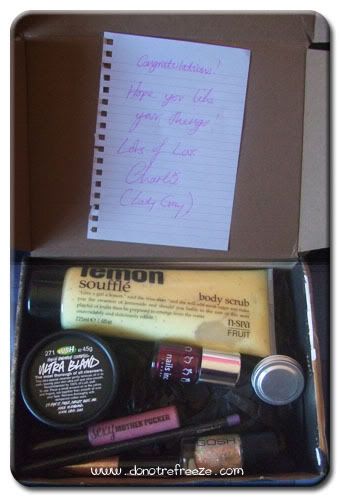 Really looking forward to using these, particularly the Nails Inc polish as I've NEVER had a Nails Inc one before (none of the colours ever really appeal to me when they do those magazine freebies and stuff, but Charlie picked a fabulous colour here!), and the Lemon Soufflé body scrub 'cause I've tried a few of the N-Spa scrubs before but not this one. Thanks again Charlie :D
I had no idea what the second package was, and I was all excited 'cause it was just addressed to 'Leanne' rather than my full name. Turns out, it was a present from Sarah (of I Heart Cosmetics fame) to say thank you for helping her out with her blog layout! Dawww :)
The gorgeous glittery Thank You card is in pride of place on top of my computer, and soon will join all other makeup/blog friend related bits and pieces on my noticeboard ;D hehe. The little makeup brushes are lovely and soft and have just made travel soo much easier for me since I don't have any small brushes and am always lugging my long handled ones back and forth when I stay at Colin's. I'll be staying there this weekend, so I can make good use of them :D in fact I may even leave them at his house for even MORE convenience! Haha. Also included were two 'Sparkle and Fade' nail polishes from Urban Outfitters – yknow, for someone who calls herself a nail polish addict I'd never heard of these before (mind you, Urban Outfitters isn't really my thing) – Sparkle and Fade seems like a strange name for creme polishes, am I right? But I must say, I'm pretty much in love – I have found what is probably the closest I will ever get to mannequin hands!
I can't find a shade name or number on the bottle so I'm afraid I can't tell you what it is! :(
Thanks sooo much again and big hugs to Charlie and Sarah for brightening up my day with lovely things :D I was really under the weather yesterday so these perked me right up. Thanks ladies! :D
What have you received in the post lately?
P.S. Yes Photoshop is fixed, let the blogging commence! :D