So I am absolutely, completely, and totally in love with China Glaze Peachy Keen. I cannot stop wearing it! I even wore it plain for a few days because I just loved looking at the beautiful glossy colour. Take a look, two coats with Poshe topcoat.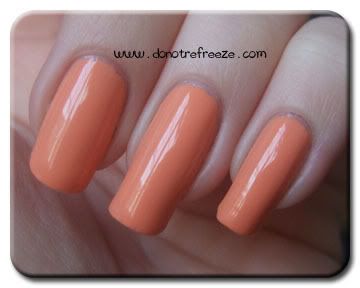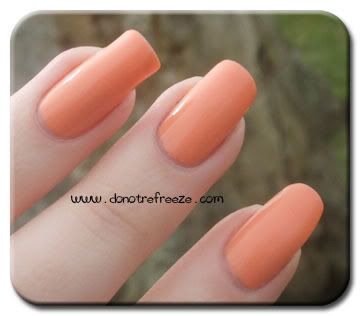 Gaahh I just can't get over how much I love it. It's beautiful. Agreed? Or is Peachy Keen not really your thing?
Tonight, I was thinking about possibly cutting my nails down – I love them long but I'm afraid of them breaking really low down, and since I fail at lining up full nail image plates for double stamping, I've been totally neglecting Konad. On the flipside, I ordered a set of nail art brushes from eBay a few days ago so maybe keeping them this length will give me a better canvas for practising freehand nail art. Your thoughts? :)
So anyway, that train of thought led me to remembering all the amazing freehand leopard print nail designs that my friend Kim (Dottie K) has done. If you don't follow her already, you should definitely check out her fantastic blog which deserves way more followers! I decided to take a leaf out of Kim's book and give this freehand thing a go, here's how it turned out: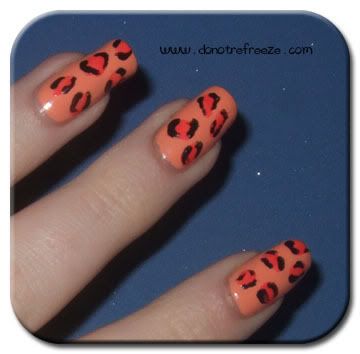 It took me somewhere between 20 and 30 minutes to do both hands, the process sounds easy but I tried to take my time and make it look good! I don't think it's too bad for a first attempt but Kim's manis blow mine right out of the water. What I did was apply little patches of Barry M's Coral nail paint to the nails first and allowed them to dry – obviously not with a lot of polish on the brush, I scraped most of it off on the side of the bottle and just dabbed the tip of the brush onto the nail. Once that had dried I used a dotting tool (although you could use a cocktail stick or something similar if you don't have those) and Color Club's Dark Romance polish to finish off the leopard spots.
I actually really like how it turned out and now feel inspired to try a lot more freehand designs so I'm excited for my brushes to get here! Since I haven't used my China Glaze Wireless holographic topcoat in a while, I thought I'd slap a coat of that on top when I was finished. I didn't love it with this design, but I guess it's okay! I kinda wished I'd just used a plain topcoat. Hope you like, though!