I'll level with you – I'm becoming less and less fond of giveaways that don't require any thought or effort! So, I'm bringing you my first ever contest. As you are most probably aware, I'm currently unemployed so the prizes aren't very expensive or anything but they're fun! So, what I want you to do is…
Create a manicure inspired by fairytales!
Under the umbrella theme of fairytales I'm going to include Disney (not live action Disney) and traditional bedtime stories. I want you to have fun! You can do something really simple or you can go all out mental sticking a bunch of stuff on your nails, but as long as I can see where your inspiration came from it counts! Konad is permitted but don't just use it as standard, as in stamping the same image onto every nail – that's not very inspired I'm sure you'll agree! If you want to use Konad, be creative with it and try your hand at multiple stamping or combining Konad with other techniques!
There will be one winner and one runner up. The winner will get their pick of the two prizes and the runner up will get the other! The prizes are as follows;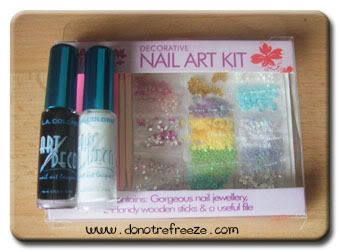 Nail art kit with 15 packets of decorations (yes it's from Poundland but I have this kit myself and it's fantastic. Besides, the price isn't really important is it?), plus black and white LA Colors Art Deco nail art stripers.
Six brand new transfer foils and adhesive – these can create some amazing effects!
Please email entries to leanne@donotrefreeze.com and include your blog URL and name as it appears on Blogger. Feel free to write a few lines about what inspired you, and please include pictures you used for inspiration! You do need to be a follower, by the way, and you can enter with as many designs as you want but email each separately.
Wait! I haven't forgotten those of you who aren't really into nail art. I have an extra prize for you lot!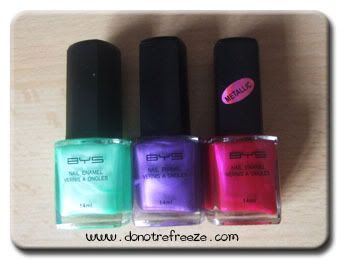 Here's 3 BYS nail polishes. They have really, really boring names! Envy Me (which doesn't suit that green colour at all, envy is more like jade or emerald green right?), Pouty Purple and Metallic Fuchsia. So, what I want you to do to win these is suggest new, fairytale inspired names for them! Just leave these in a comment with your email address (yes, you need to be a follower again).
PLUS! I will use random.org to pick one commenter to win a brand new bottle of the elusive and gorgeous GOSH Rainbow nail polish! You can see my post on that here.
Please, please, PLEASE don't be afraid to enter if you think your nail designs are no good. If I can see that you tried, that's more than good enough for me. The winner won't necessarily be the one with the craziest, busiest design!
Entries for both parts of the contest are open until 6th April, 9PM GMT. That gives you 3 weeks! You can enter both parts of the contest but obviously you can't win both.
Get creative and have fun!