Good morning lovelies. I've decided to make Free Love Fridays a fortnightly thing, so don't panic, there'll be one next week :)

These have been a lawwwng time coming. Well only a week or two, it just felt like forever but I wanted to post them all up at once so had to wait until I'd done a Konad design with all of them. There's definitely a bit of a butterflies theme going on here, in case you can't tell I'm loving butterflies and accent nails at the moment ;P So let's go!

Lemon Fizz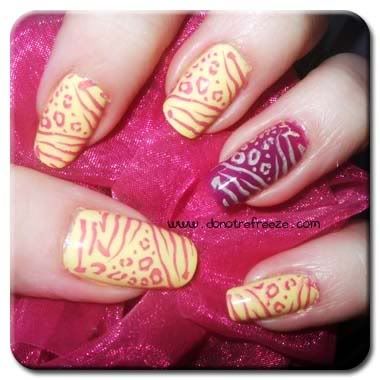 This is hands down the boldest one I did. After I finished, I thought it REALLY reminded me of the old MAC Style Warriors collection.. with the yellow and purple and animal print, hehe. So this is China Glaze Lemon Fizz and Barry M Bright Purple 303, and Konad plate M78.
Re-Fresh Mint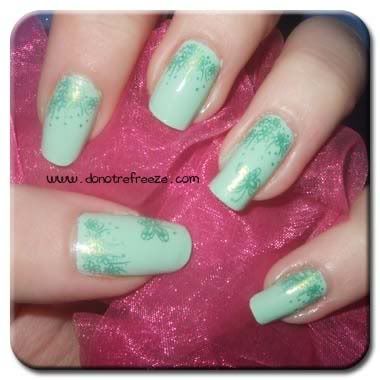 This one's kinda cute, huh? This is China Glaze Re-Fresh Mint, and the grassy kinda design at the bottom of the nails is from M77 and I think the little butterfly on my thumb and ring finger is from M50. The stamping was done with an unnamed green polish from a brand called Vital – only cost 99p, I'm not sure where it's available but I randomly grabbed it from a place at the Stratford Centre specialising in afro hair products, haha. Anyway, I digress, next one!
Sugar High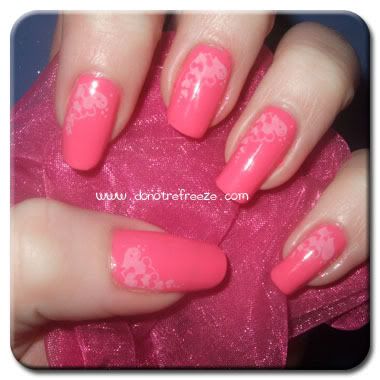 Loving this colour sooo much! Not much else to say here – China Glaze Sugar High, stamping with China Glaze Something Sweet and plate M59.
Something Sweet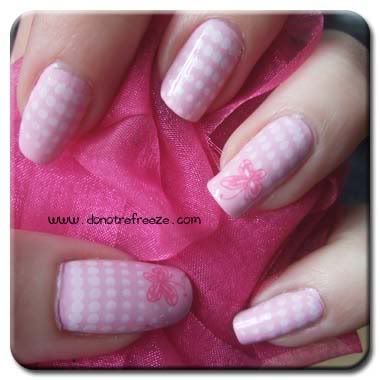 Wasn't overly keen on this one 'cause that dots design is SO HARD to get straight and even. China Glaze Something Sweet, dots were stamped with Color Club Alabaster and M60, butterflies were stamped with China Glaze Sugar High and M50.
Peachy Keen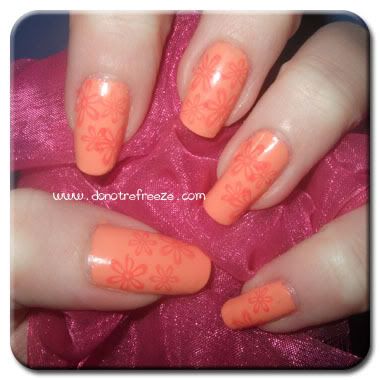 I love this colour so much more than I thought I did. It was the one I was most excited about getting when I ordered them, but when I swatched it I didn't love it. I've totally been converted, though! China Glaze Peachy Keen, and the multi-stamped flowers I think are on plate M60, with Barry M Coral 296.
Light As Air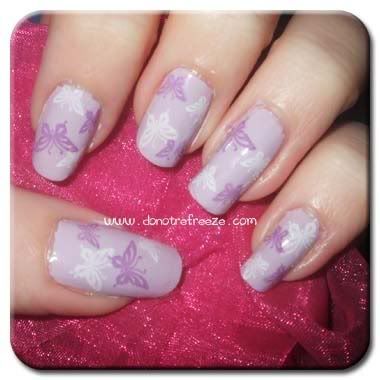 Last but certainly not least, this was probably my favourite one of the lot. Even if only because it took so bloody long! The two different sized butterflies are on plate M78. They were stamped multiple times over China Glaze Light As Air with Color Club Alabaster and GOSH Wild Lilac. I really, really liked this one and wore it for a whole three days *gasp*!
So, I hope you like them all. Let me know what you think :) xo
If you missed my China Glaze Up & Away Dupe Hunt post, check it out here!