*Sigh* so as expected, I have reasonable dupes for most of the colours I hauled already. Hahaaa woops! Let's take a look: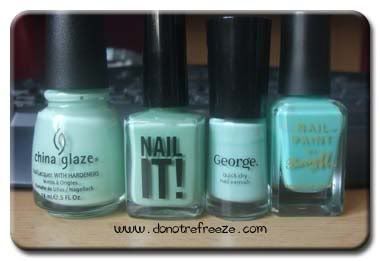 L-R China Glaze Re-Fresh Mint, Sportsgirl Nail It! Apple, George @ Asda Streamer, Barry M Mint Green. Same order thumb – ring finger!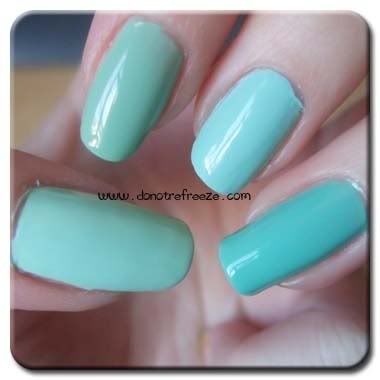 As I expected from comparing the bottles, Mint Green is a lot more blue and Apple is a lot more dusty and muted. Streamer is just a touch lighter than Re-Fresh Mint but these two are close enough that I'd have to say you don't really need both.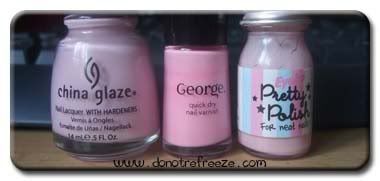 L-R China Glaze Something Sweet, George @ Asda Sherbet Fizz, Eyeko Pretty Polish. Same order thumb – middle finger!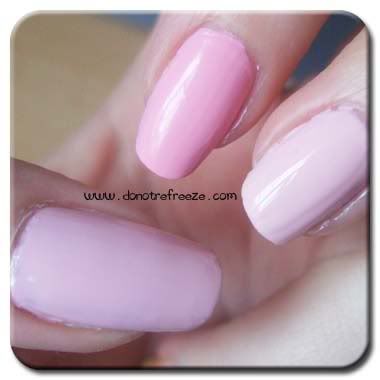 Sherbet Fizz is a totally different colour. I orginally bought Something Sweet with the hopes it would be an exact colour dupe of Pretty Polish which I love so much but we all know about the crap brush and formula on the original Eyekos. They aren't exact matches, the Eyeko is a liiittle more on the white side but I love them both.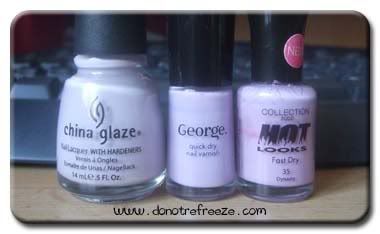 L-R China Glaze Light As Air, George @ Asda Be Mine, Collection 2000 Dynasty. Same order thumb – middle finger!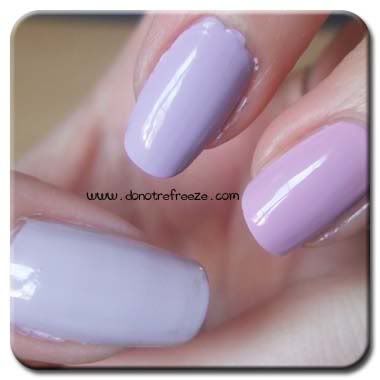 Dynasty is immediately noticeable as having much more of a pink tint to it than the other two. Be Mine is a bit brighter whereas Light As Air is more muted but they're still very similar. But, as a lilac lover, I'm happy to own them all ;P
L-R China Glaze Peachy Keen, Guppy #33. Thumb & middle = Peachy Keen, index & ring = #33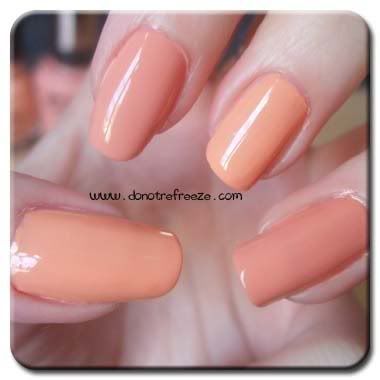 Noticeably different, both totally gorgeous. Peachy Keen is leaning a bit more orange and #33 is leaning a bit more coral. Love them both though and think that pairing this could make for a really subtle Konad! I'll have to try it out.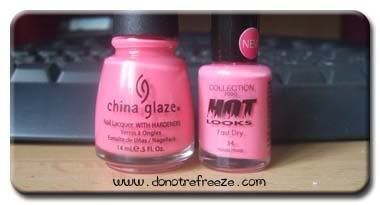 L-R China Glaze Sugar High, Collection 2000 Hoola Hoop. Thumb & middle = Sugar High, index & ring = Hoola Hoop.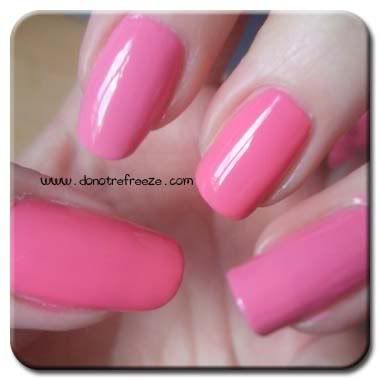 Not much of a difference here at all 'cept Sugar High is a bit more 'bubblegum'.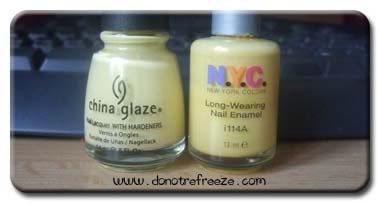 L-R China Glaze Lemon Fizz, NYC i114A (this is ancient, they don't do it anymore). Thumb & middle = Lemon Fizz, index & ring = NYC.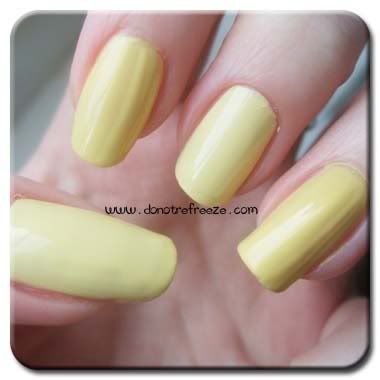 I knew these wouldn't be similar at all since the old NYC one is a shimmer and Lemon Fizz is a creme. But it's the only other yellow I have in my collection apart from Barielle Lemon Drops which is briiight. This was kinda just done especially for Halifax who asked if I knew of a dupe for Lemon Fizz. Well, I don't have it but I'm suspecting that Model's Own Lemon Merinque is VERY similar from all the pictures I've seen.
Hope this is helpful in some way, to someone. ;D