I'm really sorry about the lack of updates from me in the last week. I'll leave it at 'personal reasons'. I'll be away this weekend also but please expect normal service to resume on Monday!

Haha, ironically, I've noticed that I've gained a few followers since I went quiet. Perhaps I should shut up more often? ;P

Hope you're all okay, and that you all like my current manicure!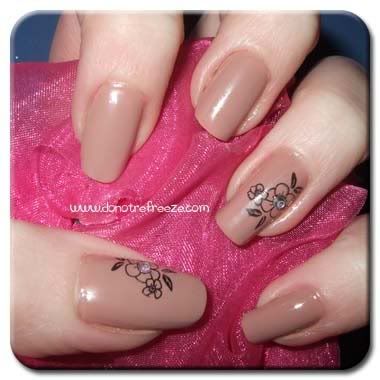 2 coats Sally Hansen Hard as Nails
2 coats Guppy #25
Flowers from Konad plate M54 with Color Club Dark Romance, plus rhinestones
OPI Designer Series topcoat
There won't be a Free Love Friday tomorrow I'm afraid. I wonder if I should even continue with them? I don't seem to have gotten anything in the way of feedback. What do you ladies reckon?
Let me know how you all are and what you've been up to and stuff, please? :) Hit me up on Twitter if you like.
See you on Monday! xoxo