I asked my dad for this book as a Christmas present (along with Look Like A Star by Lauren Luke which I also intend to review shortly). Having previously read and enjoyed The Art Of Makeup by Linda Mason I was expecting to love this book. But I won't beat around the bush – I was very, very disappointed.
The book is divided into sections, and headed with a foreword by Linda's daughter Daisy who across these two pages is sporting a pair of unflattering eye looks. There are introductory sections to different types of products which offer nothing other than common sense observations. The section on eyebrows is quite a good read but in actual fact it's mostly just regurgitated generic information you can find anywhere such as the age-old 'never pluck above the brow' and how to groom brows that are sparse or uneven. And now I'm probably just being pedantic, but at one point in the book there's an annoying typo when 'flase eyelashes' are mentioned.
As for the looks themselves… I hate to say it but they're crap. In the introduction, Linda says 'This book is not only intended as a technical guide, but also as a source for inspiration'. I was not inspired by any of the look, which range on a scale from boring to laughable. I realise you may be thinking 'what right have you got to criticise her, Leanne? She's a professional makeup artist and you're just a beauty blogger!' – but those of you who own this book will probably be in agreement with me. I just can't stress how disappointed I was at the shoddiness of the work in this book, especially after being impressed by some of her older stuff.
It's not all bad – there are some looks that are certainly wearable and reasonably pretty, they're just boring and nothing interesting and these ones wouldn't even be very helpful to a beginner as the explanations are quite bad; a beginner would be better off with YouTube tutorials anyday. At the other end of the scale there are some truly, truly shit looks. For example, there's one called Galaxy Girl which features a dark magenta colour spread over (not blended) the inner part of the crease whilst the rest of the look is based on lighter colours, which makes the model look tired or bruised! Another one I hate is Playful. This look is made up of a nice combination of blue and silver on the lid but is completely ruined by steps 3 and 4 – 'apply a large dot of violet above the crease' and 'apply a small dot of violet below the centre of the eye'. Yeah, seriously. This one is pictured further down. I feel sorry for the model Ming, who is wearing my two least favourite looks in the whole book, Beatnik and Abstraction. These literally just feature blocks of unblended colours thrown haphazardly onto the lid.
In short, I hated this book. Do yourself a favour and don't part with your money. Most public libraries carry copies if you really must satisfy any curiosity but flicking through it will help you see what I mean. I honestly would not recommend this book to anyone. :(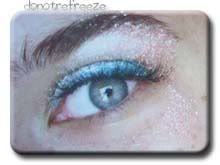 Daisy Mason in the foreword 'rocking' some fugly chunky glitter. GET IT OFF!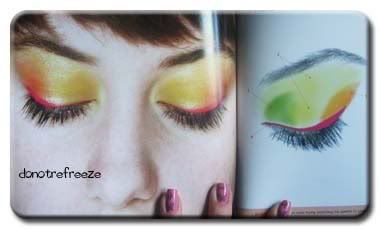 One of the only looks I liked in the book, called Neon.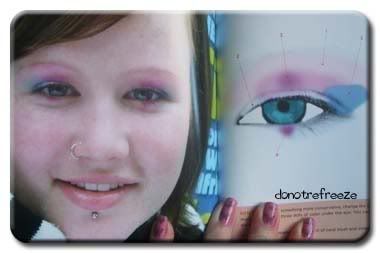 Here's Playful. What the HELL was Mason thinking with those dots?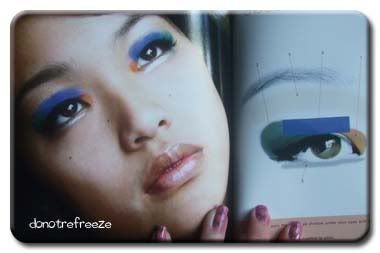 Abstraction. I am going to mail Linda a MAC 217 brush asap! Seriously though, this one is a failed attempt at being arty, I think.
Does anyone else have this book? Does anyone actually like it?