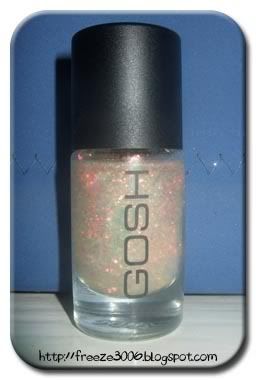 Flakies are hot sauce in the polish blogging world right now. I really wanted to try Inglot's flakies whilst I was there but I couldn't quite justify paying £7 each for tiiiny little bottles (I'm gonna guess they were 5ml?) when I'd just bought this lovely GOSH one at £5 for 8ml. I'd been lemming this for ages and I'm so glad I finally got it. It looks very modest and cutesy in the bottle, and over light colours, but stick it over a dark base colour and BAM!
Here's one coat of Rainbow over plain black polish (an old NYC one). I'd already learnt my lesson about interesting layering polishes needing to be tried over black immediately after my session with the BYS Glam Glitters. This is truly beautiful, it flashes all different shades of red, orange, pink, green and gold depending on the angle you catch it from. I guarantee you it's impossible to capture how amazing this polish is in photos. YOU NEED IT.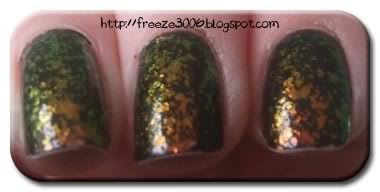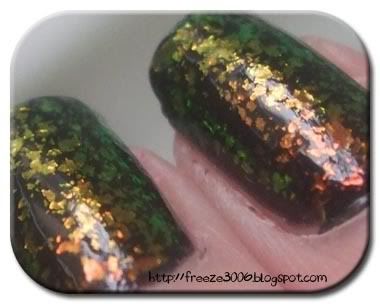 I've also swatched this on a nail wheel over some other colours but can't get a good photo at the moment without natural light. I'll edit this to include it if anyone's interested? I can confirm that it looks AMAZING over dark purple :) it's cute and pretty over light, nude shades but it really comes alive over dark shades.
GOSH nail polishes are available in the UK from most Superdrug stores (although this one normally seems to be a bit of a bugger to find!)
P.S. The observant among you may have noticed you're seeing my right hand in these pictures instead of my left like usual… I've broken a nail for the first time since early December D: devastated! The middle finger on my left hand. Fortunately it's not too low and stumpy, and my left hand will be returning to it's modelling career with my next nail post!