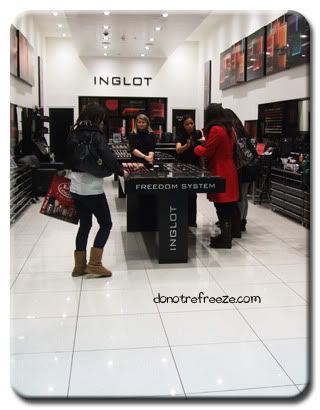 (Spot Charly having a mooch ;P)
Unforunately, there isn't a whole wealth of information about Inglot on the internet – the website's been 'under construction' just about forever. Regardless, after having heard a little bit about it from a few fellow beauty bloggers, Charly, Sarah and I decided to check out the Inglot store at Westfield shopping centre.
Honestly, they have absolutely tons and tons of stuff. I really wanted to get some of their nail polishes but nothing jumped out at me.. I really wanted some of their lipsticks too but I was trying to be sensible with my money. I plan to drag Colin there sometime soon to pick up a couple of lip products and take some more pictures. As for this visit, though, I just customised a 'Freedom' palette for myself.
Inglot's Freedom system comprises of empty palettes which you fill up using colours of your choice (no shit), but the bonus is that the palette is included in the price, unlike MAC's pro palettes for example. They have several different options for your palettes – you can have 3 eyeshadows, 5 eyeshadows, 4 blushes, 4 eyeshadows and a blush… the list goes on, and one of the types (I think it's just the 5 eyeshadow one) can become stackable so you have many layers to the same palette. Pretty clever!
Anyway, I originally wanted a blush palette but I couldn't pick four of the blushes – there were only 2 I really liked! In the end I went for the combination of one blush and 4 eyeshadows. The small rectangular space you see at the bottom of the palette is meant to house a brush which is offered to you for an extra £3, but I said no. This cost me £22.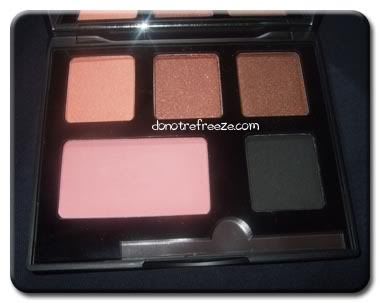 (For a picture with flash, this is surprisingly colour accurate)
Now I've had more time to think about the choices I made in my palette, I could have forgone the brown in the middle of the top row and substituted it for a highlight colour – I think that would have been a little more convenient! But I'm bound to make another palette at some point :) The shadows are all wonderfully pigmented, soft and blendable as I expected. The peachy colour (which I picked up 'cause it looked a little similar to MAC's Paradisco, which I've wanted for a while) doesn't photo brilliantly, just trust me when I say it looks much more vibrant in person. Wanna see the swatches? Of course you do! First one's with flash, second is without.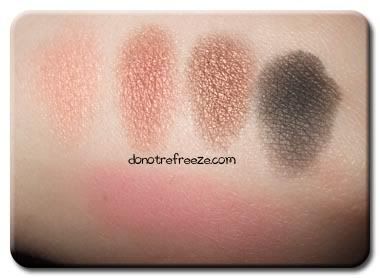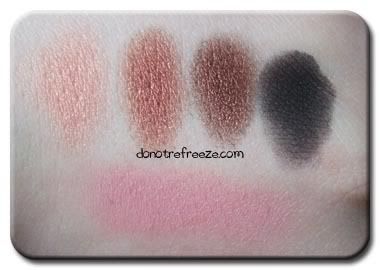 These are all swiped once with my finger onto bare skin. They look lovely, don't they? But they're particularly gorgeous and blendable when used over Kryolan Eyeshadow Base, which I will review soon.
If you live in or near London and ever take a trip to Westfield, I highly recommend getting yourself a palette made up. It's not expensive at all for the quality and amounts of product you're getting. The blush is 7g and the eyeshadows are 2.7g each. Compare that to 6g and 1.5g for MAC equivalents and I think it's a bit of a no brainer, don't you? This particular Freedom palette also houses a huge mirror. If I'd have thought to put a highlight colour in rather than the middle brown shade, I would have created a super convenient palette! And of course, here's a quick EOTD with the palette.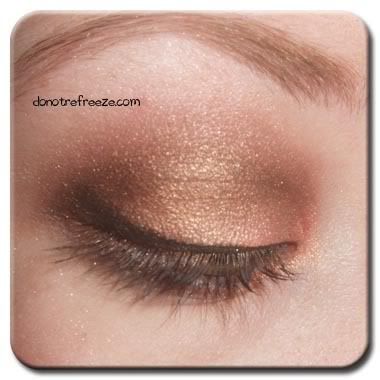 Do you own any Inglot products? If not, do you want to?