Yknow… now I've photographed everything, I didn't actually do THAT much damage. My bag just felt super heavy! Be aware that these pics aren't in any chronological order of purchase! Haha.
The first items to find their way into my bag were three George @ Asda nail polishes courtesy of Charlotte – thanks! Also pictured here is GOSH Rainbow nail polish which I've been wanting for quite a while and ended up grabbing whilst at Westfield. I was glad for these small polish provisions since there was a severe lack of nail stuff at the show. Was especially disappointed that Obsessive Compulsive didn't have any of their polishes at the show! Ah well. Anyway, you can also see my wristband, a small paint palette I picked up for £1 for convenience when mixing products, Kryolan eyeshadow base, and a few bits from Fero Cosmetics – a green concealer, a regular concealer and a synthetic concealer brush. These items were particularly cheap so I thought I may as well give them a go!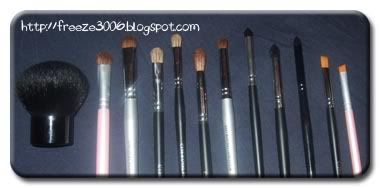 #
Yay for brushes! Aside from the kabuki, which was £5 from Royal brush, the rest were from Crown Brush and cost £2-3 each! Amazing, right? I have plenty of face brushes but knew I could definitely do with stocking up on eye brushes, particularly blending/crease brushes. I also grabbed a couple of synthetic flat brushes (one angled) for liner.
These are the bits I picked up from Illamasqua at a super discounted rate! I got the sealing gel, medium pencil in Hex (will use this as a nude lipliner and as a flesh toned eye pencil for the waterline, I think), and powder blushes in Hussy and Mischief. The Mischief pictured here is actually the one that I owned beforehand, not the one from the show – I didn't realise until I got home that I'd been given the wrong one to what I asked for! I asked for Rumour and was given Mischief, which I already own – sucks. I can understand why as they are somewhat similar colours at a glance, and I can also understand why it took me so long to notice – if you were there you would have seen how claustrophobic the Illamasqua counter was. I'm hoping to get it exchanged but I cannot find my receipt ANYWHERE! Haha.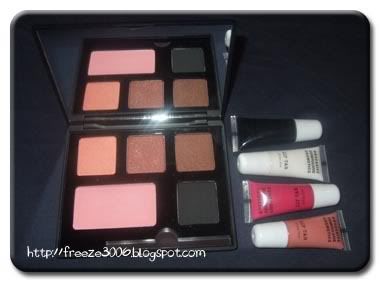 I was very excited to literally be one of the first people to hit the OCC stall and grab a few Lip Tars while I could. I bought Hush, Pageant and Feathered, and because I was told by one of the people on the stall that they only had 20 tubes of Tarred, I HAD to get one of those just because. Haha. Today I wore a lovely mix of Hush and Feathered with the tiniest touch of Pageant, it was gorgeous! I don't plan on reviewing these straight away though since I assume a lot of people will do so – unless one of you asks me to of course! Also pictured is my GORGEOUS palette from Inglot. Will definitely post on this soon so won't say much now.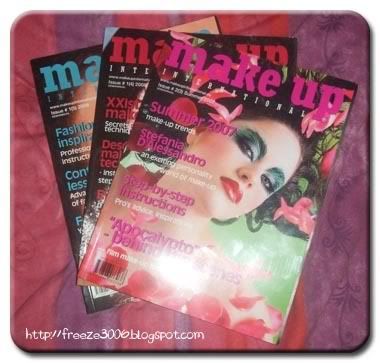 Lastly, I picked up these three old issues of Make Up International magazine (from 2007, 8 and 9) at £3.50 each 'cause a quick flick through ensured me that there were enough gorgeous and inspirational pictures in there to justify it!
So yeah, not too much damage right? I went home with a good portion of my cash left, believe it or not!
If you were there, please link me to your hauls! And please, let me know if there's anything you would like to see a post on :)