I'm not overly fond of super-bright and neon nail polishes so I skipped that part of China Glaze's Up & Away collection, but as soon as I saw the promo image back in like, November or something ridiculous like that I knew I HAD to have the pastels! I also picked out Sugar High, which obviously isn't a pastel but it's much less in-your-face than the rest of the brights.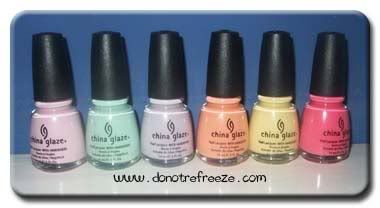 L-R: Something Sweet, Re-Fresh Mint, Light As Air, Peachy Keen, Lemon Fizz, Sugar High.
For now I'll just show you swatches but I'm working on creating a different KOTD for each polish – so far I've done Something Sweet and Re-Fresh Mint, once I've done them all I'll post them up together :)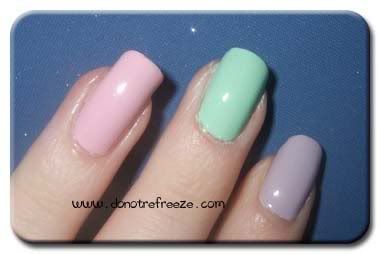 Something Sweet, Re-Fresh Mint, Light As Air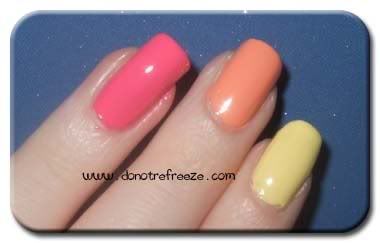 Sugar High, Lemon Fizz, Peachy Keen
The formula of these seems lovely when you look at the brush out of the bottle, but I think they're just a tiiiny bit more runny than I'm used to which made application a little bit difficult on my first go but once I got the hang of a polish that's more fluid than I normally use it was a breeze. As always, no complaints!
Yknow… now that I've finally got these after lemming them so for long, I think I've got dupes for a few of them already in my collection. Off the top of my head, Light As Air looks super similar to Collection 2000 Dynasty and George @ Asda Be Mine. Peachy Keen looks like a dead ringer for Guppy #33, and Something Sweet looks pretty similar to Eyeko Pretty Polish although I've been looking for one like that for ages 'cause the application was a nightmare. I've got a handful of different mint greens but I think Re-Fresh Mint might be quite a bit lighter and brighter than my others. Oh, and Sugar High looks an awful lot like Collection 2000 Hoola Hoop!
So how about it… dupe hunter post? Yes, no?
Did you haul any of this collection?
Thanks for the suggestions some of you gave my in my last post, by the way – I'm feeling a bit more back on track now!