So I was trying to narrow down all of my favourite products of last year to just ten – in transpires that was TOTALLY impossible so I decided to cheat a little bit! Here I'll share with you my top ten makeup products of 2009, and in my next post I'll show you my top ten nail polishes of 2009. Since this IS a makeup AND polish blog, that's only fair right? ;P

These are in no particular order!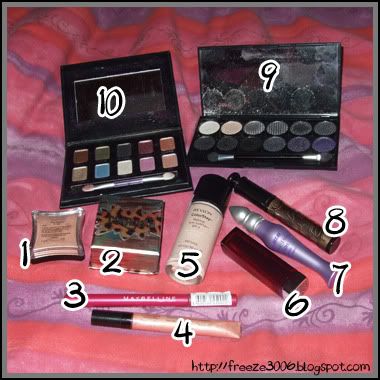 1. Illamasqua Pure Pigment in Furore
BEAUTIFUL pigment! I love this so, so, SO much. I use it most days even if it's just a touch on my inner tear duct area for an instant brightening effect. Probably my single favourite Illamasqua product ever, and I LOVE my Illamasqua ;P Retails at £15. A swatch can be found in this post.
2. BeneFit Coralista blush
Again, something I use nearly every day. I don't have THAT many blushes (probably 10 or something) but the others barely get a look in because I love this one so much. Worth every penny of the whopping £22.50 it costs, in my opinion! I haven't swatched it yet but I do intend to do a top 5 blushes post soon, and it's featured in nearly all of my FOTDs! Haha.
3. Maybelline Line Definer
Can you see a pattern emerging? I've picked products I use on pretty much a daily bases (well that makes sense since this is a list of my top products of the year..). SO easy to create the perfect line with this. Can do thick lines, thin lines, tapered lines, cat lines, you name it this pen does it, at a fraction of the cost of a MAC Penultimate liner or anything else. Doesn't smudge, pretty waterproof and VERY black, not a disappointing murky grey. LOVE IT! Retails around £5 I think
4. Illamasqua Sheer Lipgloss in Soul
I always, always used to wear Illamasqua's intense lipgloss in Absorb over a nude lipstick but I've finally learnt that's a bit too stark and harsh for my face. I'm still big on nude lippies but this lipgloss gives them such a beautiful pink-and-gold-tinted nude glaze. This also looks fantastic over pink lippies, mauve lippies.. most, in fact! Retails at £12.50
5. Revlon Colorstay foundation (Ivory in winter, Buff in summer!)
WHERE would I be without this foundation? In GrossSkinsville. My skintone is soo patchy and uneven, with loads of red splotches and other unsightlyness. This paired with Maybelline Pure.Cover mineral concealer is my winner for evening out my skintone. Retails at £11.99
6. Maybelline Color Sensational lipstick in Ambre Rose
I couldn't choose between my favourite nudes (NYX Circe, Natural Collection Apple Blossom and GOSH Darling), so I went for this instead! This is such a universally gorgeous lipstick, looks good on anyone and with any look! What's not to love? (Also looks fab under my number 4, Illa's Soul gloss!) Retails at £6.84
7. UDPP
Yep, I only discovered the delights of UDPP last July! Up until then I'd been using other things as bases like Barry M Shimmering Eye and Lip crayons, or GOSH Waterproof Eyeshadow sticks. I don't know how I coped without this though! Although I am dreading the day I'll have to depot it. Retails at £11
8. Majolica Majorca mascara
Majolica Majorca is an Asian brand, and interestingly is the 'drugstore version' of Shiseido. This was very kindly sent to me by Jools during my search for my HG mascara, and I absolutely love it. It's got the most bizarre little comb thing, I really do need to give this a proper review at some point so I can show you. But suffice it to say that it's one of the only mascaras I've ever tried that doesn't make my lashes flop! I have nooo idea how much this retails for, I'm afraid.
9. Sleek i-Divine eyeshadow palette in Graphite
I know that everyone and their mums have Graphite palettes (slight exaggeration but nevermind) but this is honestly one of THE best purchases I made in 2009. Such a shame that this was limited edition. I don't need to rave, you've heard it all before and seen a million swatches but mine are here just in case. I use this so much more than I anticipated I would. In fact, I'm wearing a look with it right now! Sleek palettes retail at just under £5 – I've seen them sold in some places for as little as £4.43, I've bought them for £4.87 before but I've also seen them at £4.95 and £4.99. Still can't be beaten on value though!
10. Urban Decay Ammo palette
My other favourite palette. This is always the one I take with me when I travel (i.e. go to stay at Colin's.. I don't do much other travelling haha). This palette can create such a huge repertoire of looks and Urban Decay boast one of my favourite eyeshadow formulations. They're pretty spot on with their consistency, and I don't think such a thing exists as a chalky, dry or unpigmented UD shadow. Nothing not to love! Even the dreaded sponge applicator they throw into everything is sufferable. Amazing palette if you ask me – Last Call is one of my favourite shades. Retails for £21
So, there's my top 10 makeup products of 2009. Look out for my top 10 nail polishes later on!
If you've done a top products of 2009 post, I'd love to see it! Leave the link for me in the comments and I'll be sure to take a look :)