So the other day, I saw Caz's post on her nail polish storage and decided I wanted to do one of my own. Then a couple of hours later, I was actually asked to do it by Emma and Claire, so I think it was meant to be ;P

There's really nothing fancy about how I store my nail stuff. This is what you'll see on the middle shelf of my cupboard.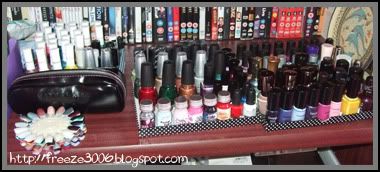 Yup, I just stand everything up in shallow boxes! The two on the right, where I keep all my polishes, are the box and the lid from a birthday card.. yknow you get those 3D decoupage cards from Clintons that come in fancy boxes? That. Then on the left is a shallow blue tin that some Color Institue lipglosses came in, where I keep my basecoats, topcoats and nail art pens. In front of that you can see my pile of nail wheels for swatching purposes, and a small black Maybelline makeup bag which was a 3 for 2 free gift in Superdrug forever ago. Not pictured is a little pink No7 makeup box which I think was a Christmas gift last year which I'll show you properly in a minute. I keep nail polish remover (I use Cutex Moisture Guard) and cotton wool pads on my desk because I'm forever changing my polish.
So here are my polishes. You can't see very much, and I don't have nearly as many as I liked to think I did XD but you can see that I more or less just roughly organise them by brand. The left box houses GOSH, OPI, Collection 2000, China Glaze, Eyeko, my special Konad polishes and a few others. The right box is Barry M, some other drugstore brands like Maybelline and Rimmel, George @ Asda and some others. You can see there's still a bit of space in the left box which I'm hoping to fill when the China Glaze Up & Away collection is released!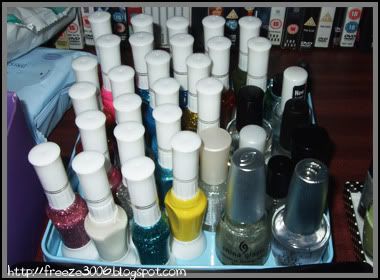 Nail art pens and base/topcoats. I really do neglect those pens, I feel a bit guilty D: haha. Some of my favourite topcoats include China Glaze's Wireless Holographic and Matte Magic, and OPI Designer Series topcoat.
As for what lives in the Maybelline makeup bag, it's just tools like cuticle sticks and my dotters, Q tips and nail glue, and a reeeally thin nail art brush. As for tools like clippers, scissors, files and such, they're more or less just scattered on my desk or stood up in my brush holders.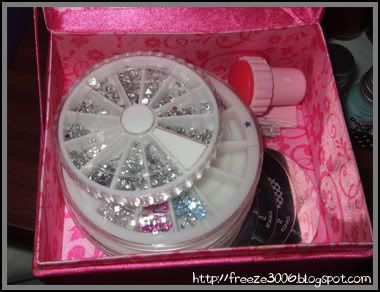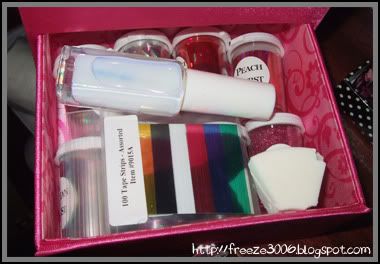 The pink box is where the majority of my nail art stuff lives. When you open the lid you'll find all my rhinestone/decoration wheels, and all my Konad image plates and stamper and scraper. In the drawer underneath, I keep all my foils, glitters and striping tape from DollarNailArt along with some nail stickers at the bottom and a torn up foundation sponge for if I want to do sponging.
Aaaand that's it! Like I said, nothing special – I've been searching for an afforable set of drawers to replace this makeshift box system for ages but I can't find anything that's the right size. I don't want drawers that are really deep… blah. How do you girls all store your stuff? I'd love to see!
Sorry to change the subject, but I want to know what's in the air at the boy's house – whenever I go there my nails seem to grow super super fast (maybe because I don't have to do loads of stupid housework and crap like I do at home)! When I came home from Colin's house just after New Year, I couldn't believe how much my nails had grown since I left. Unfortunately though they were really brittle and peeling/flaking at the tips (as a result of falling out of a good skin/nailcare routine when I spend a week away) so I had to cut them all down. :( Here's 2 Konadicures I've done since then.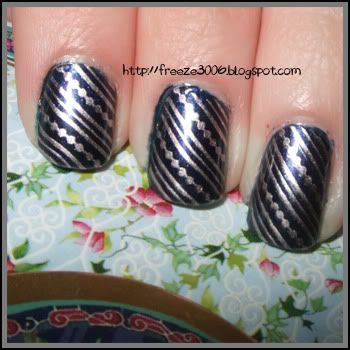 I loooved this one. I tend to love anything with OPI Russian Navy! The stamping was done with Miss Sporty Zodiac from plate M65.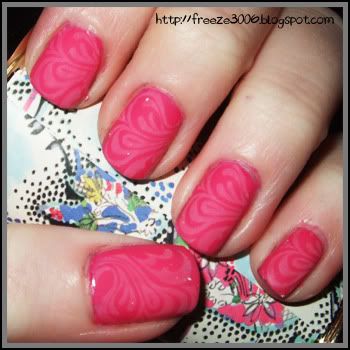 Here's what I'm sporting now (well, at the time of drafting this post. It will have undoubtedly changed, and potentially more than once, by the time I publish it in a few days time! Hehe). Base colour is Barry M Shocking Pink, and I used plate M63 to stamp the design in Eyeko Pretty Polish. I love how these look together, really girly and subtle. I made it look a little bit more grown up with China Glaze matte magic topcoat.
So, please let me know how you store your nail polish and stuff, and let me know if you have any ideas for me! I have been tempted to buy a nail polish rack before (like the ones Xsparkage has) but that would be too much of a dust magnet. Any other ideas?