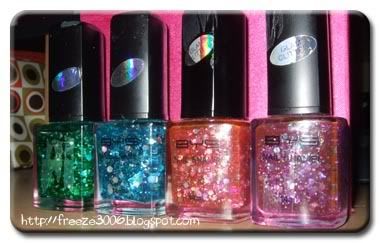 A couple of months ago, Jacie of You've Got Nail and I did a polish swap – I sent her some British nail polishes like Barry M, Collection 2000 and GOSH and in return I received some awesome Aussie lacquers. I can't believe it's taken me this long to fall in love with these four bottles of awesome!
You see, when I first got them, I could see that they were large glitters suspended in just-about-tinted jelly formulas and the only way I could think of using them was over white. They turned out like this…

L-R Kinky Pink, Purple Pizzazz, Out Of The Blue, Dazzling all over Color Club Alabaster
Not so sexy, right? Well I was struggling to decide how to do my nails the other night and I felt like having a play about with these. I tried them over darker shades of their same hues, like so:

L-R Dazzling over Guppy 77, Out Of The Blue over OPI Russian Navy, Kinky Pink over Collection 2000 Vixen, Purple Pizzazz over Rimmel Underground
I thought these looked REALLY cool! I especially liked the green one. Then I decided to add China Glaze Matte Magic topcoat – HOW cool?!
And then, finally, I thought to try them over black. I have NO idea why I didn't think of this before because it looks absolutely STUNNING. Like space. :)

Purple Pizzazz, Kinky Pink, Out Of The Blue, Dazzling all over Color Club Dark Romance
And of course, I HAD to add a matte topcoat to them. I'm not even joking, my jaw dropped open and stayed there for a good few minutes until I could shake myself from this polish-induced stupor. Just you try and tell me this doesn't look AMAZING.
I then spent ages dithering over which one to put on my own nails. In the end I went for the green, I'll post that at the end.
Now, these aren't the easiest polishes to work with in the world admittedly. You have to make sure your brush is LOADED with chunks of glitter for the sexiness in the bottle to translate well to the nail. They aren't particularly fast drying but that's okay 'cause you need a good coat of Seche Vite anyway to smooth them out. You might also want to consider using an orange stick or similar to place the larger pieces of glitter in more carefully considered positions than where the brush might decide to deposit them. You can probably also see that the chunks in Out of the Blue and Dazzling are quite a bit larger than the pink or purple versions. They also come in gold and silver versions but I haven't got these so can't be sure of the sizes. They are a bit of a bugger to remove but not nearly as bad as most glitters and it's SO worth it.
I know what you're thinking – where can you GET these badboys? Well, if you're in Australia I'm sure you're probably familiar with them already and I'm quite certain they're sold in AU drugstores.
If you're in the US, I'm afraid I have no idea – perhaps eBay. If you're in the UK, you're in luck – you can get them here for oly £2.50 each with free P&P over £20! That site also sells a lot of other BYS polishes. I have one of the neons myself and the formula is excellent, I definitely recommend the brand overall.
And of course, you HAVE to see the end result on my nails!
(This is a scheduled post so sorry for late replies)