I really needed to have a little clearout of the things I've barely (or never!) used and don't show enough love to. The amount of makeup I own right now is just ridiculous. Add that to the fact I've got next to no money for IMATS which is in less than two weeks, so I decided to have a little blog sale.

50% of any money I make from this sale will be donated to YouTubers for Haiti, which I'm sure you are all familiar with.

Some of these items are being sold in lots, because they're just not worth selling on their own. I will only consider separating lots if you make a good offer worth my while!

No minimum spend, Paypal only and will ship worldwide.

***Shipping is included in the price of the item/lot according to cost to ship***

As with any blog sale, just leave the name/number of what you want in the comments with your PayPal email address. Payment by Friday, please!

Let's roll…
PENDING 1. Kyrolan Shades palette in Berlin (used 3 or 4x) £9
SOLD 2. Sleek Chaos palette (LE, not sold anymore, swatched once) £4.50
3. Urban Decay Foreshadow palette (swatched once, Oil Slick and Stray Dog used 1 or 2x) £8
PENDING 4. Trucco Angelface palette (duochromes, like the ELF Studio eye transformer. Swatched once) £3.50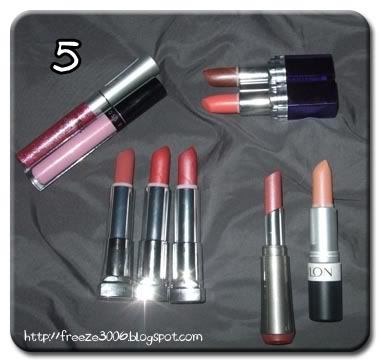 5. Lot of 7 lipsticks and two glosses, all swatched once and some used once.
Barry M Lipgloss Wand 4, Collection 2000 Prismatique gloss 4, Maybelline Color Sensational lipsticks in Velvet Beige, Stellar Pink and Pink Hurricane, Rimmel Moisture Renew lipsticks in Coffee Shimmer and Soft Coral, Revlon Matte lipstick in Nude Attitude, MaxFactor Colour Perfection lipstick in Dusky (they don't make these any more, shame!)
£10 (£13 for overseas 'cause of weight, sorry!)
SOLD 6. OPI Sit Under The Apple Tree (swatched once) £4
7. China Glaze Ginger (used once) £4
8. China Glaze Fortune Teller (LE Halloween colour, VERY highly sought after!) £8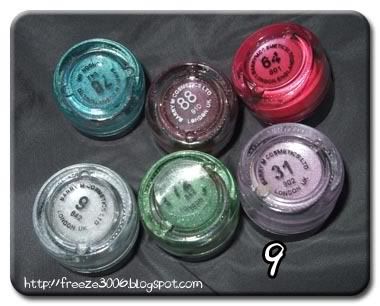 SOLD 9. Lot of 6 Barry M Dazzle Dusts. Ranging from between 50-90% left because of samples I've sent to friends outside of the UK – but who ever uses a whole dazzle dust anyway? Haha. As for personal use, all between 1-5x.
Kingfisher, Winter Berry, Fuchsia, Pale Silver, Emerald, Lilac. £4 (£5 overseas)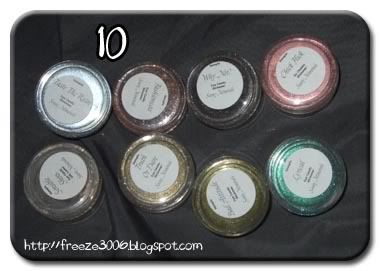 SOLD 10. Lot of 8 Sassy Minerals samples in jars (approx 1/3 tsp, 7 eyeshadows and one blush although of course you can use the blush on your eyes if you want, it's all mineral). Taste The Rain, Fashionista, Why Not?, Sensible Shoes, Bad Attitude, Lyrical, Truth or Dare, Chick Flick (blush). £4 (£5 overseas)
11. Lot of 10 The She Space/About Face Cosmetics pigments, full size. Many of you will know by now that these cosmetics are being discontinued as the owner wants to pursue other projects. Some of these were LE, and all will be very valuable soon when the business closes! All swatched once, a couple of colours used once or twice.
Tangy Taffy Twist, Flicker and Burn, Twinkle Dazzle Delight, Bubble and Burn, Because I Said So, Braving Briony (exact dupe for Illamasqua Involve pigment!), Asylum, Minimal Damage, False Pretense, Whirling Golden Devils. £10 (£11 overseas)
12. Glitter lot! 5 Beauty Box eyeliners and one NYX loose glitter. All eyeliners swatched once, silver used once.
Silver, Blue, Green, Black (with gold sparkles), Pink, plus NYX loose gold glitter. £3.50 (£4.50 overseas)
Hope you see something you like!