Hi girls, I have some news about OCNailArt, which you should know by now is the place I always recommend to go for all things Konad.

Well, just thought I'd give you a heads up about this. USPS (United States Postal Service) are increasing their postage rates on January 15th, and as such the OCNailArt Shipping Policy will be changing.

Currently, OCNailArt offer free worldwide shipping on all orders over $20 after discounts are applied. As of the 15th of January, the free shipping offer will increase to a minimum spend of $40 after discount applied if you live outside of the USA or Canada. If you are in the USA or Canada, it still remains at $20.

Still not a bad deal for us in the rest of the world, as USD $40 is a bit less than £25 and buying from OCNailArt will always work out a lot cheaper than eBay or anything. If you spend less than $40, first class international shipping will be $10.

So if you'd been intending to make an order, I suggest getting it done before January 15th if you were going to spend less than $40! If I could, I'd do a huge haul right now but I've gotta save every penny for IMATS (which I'm going to have barely any money for as it is.. haha).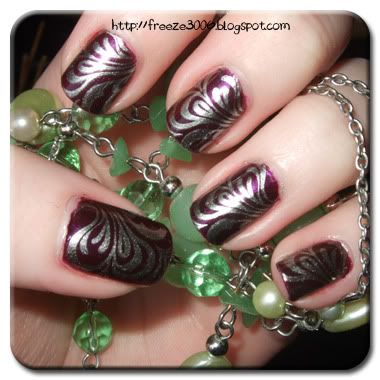 On a lighter note, here's a Konad design I was telling you about a couple of posts back! The base colour is Underground by Rimmel, and the stamping is the gorgeous design on plate M63 which reminds me of the Art Deco style and China Glaze Cherish. This is one of my favourite Konadicures I've ever done, this is the second time I've done it and it's been on for THREE days now! That's a very long time for me haha.
You might also notice the new way of presenting my pictures.. inspired by Bicky's rounded corners which just look so much neater than boring old right angles!