Before I start rambling and spamming you with pics, just to let you know there won't be a new Question of the Week post tomorrow. I've been so preoccupied all week that I hadn't even thought about it! Sorry, normal weekly posting services will be resumed next week ;P

I've tried to make this as least pic heavy as possible by throwing several pics into .gif files. Watch each .gif (moving picture) all the way through! :D

***

So, on the Friday night I got about an hour's sleep between 2-3am. I was just too excited too sleep and afraid that if I forced myself to sleep that I might not wake up on time! I left Colin's house in the snow at 6.20am, and met Yinka and Charlotte at Wood Green a while later. We were also supposed to meet Didi but she got pulled over on her way there.. LOL! Ended up bumping into her later though, and it was lovely to see those girls again. Charly turned up at Wood Green a few minutes after me, and we made our way to Alexandra Palace. Nic from Pixiwoo was sitting behind me on the bus, haha. We got there pretty early and stood impatiently in the cold until they let us in and adorned us with flattering fluorescent wristbands. Then the shopping commenced! We were very lucky to be some of the first people in there – I nipped outside for some air at about 10am and the queue must have been about 400 people long! Here, I'll break up the text with some pictures. Watch it all the way through so not to miss anything!
At some point, Charly and I met with Sarah for a quick trip to Westfield so we could check out Inglot. As we got back to the show we met my old friend Matt. By the time we'd got back we'd missed most of the student competition which was really disappointing, so we wandered in the direction of the main hall to see Alex Box's talk but were turned away (along with a couple of hundred other people) because the main hall was over capacity! Lesson learned for next year's show – get to talks early! Here, take a look at some cool body painting:
We also saw Tanya and Maxine towards the end of of the afternoon. We were thinking about going home but Matt and I were determined to find Jen before we left – luckily we found her and had lots of fun chatting whilst waiting ages for a crappy bus back to Wood Green. I was so glad to have met so many awesome bloggers :) but was also a little disappointed not to have bumped into Helen, Louise or Rowena! :(
I'll throw some more pictures in now, and I'll save my haul for tomorrow. I am SO KNACKERED! Night night!

Charlotte, Yinka, me, Didi – I look like such a baby compared to these glam ladies (and milf in Charlotte's case! Am I right or am I right?)!

David Klasfeld (CEO & Creative Director of Obsessive Compulsive Cosmetics dontchaknow) and me ;D

Charly and me! I hate this picture but it's the only one of the both of us on my camera and I can't not have one since we spent most of the day together. Thanks hun, had a great time!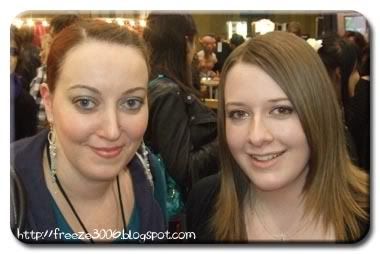 Jen and I :D it's funny, I felt a bit starstruck when I saw Jen at the Maybelline event last September. But now I'm like, whatever. ;P

Matt and I on the way out. Been a long day!
(If any of you in those pictures wants the unedited version, let me know on Twitter or something and I'll email to you x)