Earlier on this afternoon, Kim (Dottie K) and I were chatting about the China Glaze Up & Away collection and how badly we're lemming the pastels. Unfortunately, neither of us are particularly rolling in monies at the moment – but we came to the conclusion that we're in no particular rush to get them because they're not winter colours, and it'll be late February/early March before it's acceptable to wear them ;P

So I've really been trying to make the most of my favourite dark polishes before I leave them neglected over the spring and summer months. I LOVE my Russian Navy but I just couldn't bring myself to wear it when the sun is beating down!

So, here's the dark mani I had on for the last few days up until a couple of hours ago:
NYC Cognac Sparkle (another of my favourite dark colours), stamping with China Glaze Passion and image plate M63, plus OPI Designer Series topcoat.
But… ever since seeing this deliciousness I've been dying to whack out a mint green. Crazy sauce – it's January! But I could stand it no longer. So here's a light, Spring-anticipating mani!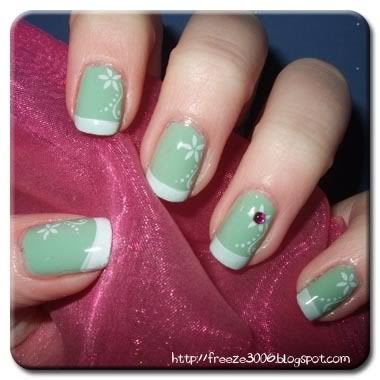 Sportsgirl Nail It! Apple, tips stamped with Color Club Alabaster and image plate M19, flowers also stamped with Alabaster and image plate M4, plus hot pink rhinestones in the middle of the flowers on the ring fingers, and OPI Designer Series topcoat again.
This is only the first time I've ever properly used M19 – my mother asked me to try it on her when I first got it and it was SO HARD TO DO! It's slightly easier to do on yourself but it's still such a bugger to get lined up nicely.
So do you prefer darker nail looks or lighter ones? Are you the same as Kim and me, generally only wearing pastels and brights in the summer and vampy dark colours in the winter?