Highly unorganised post, sorry! Quick product rave, followed by a KOTD and a ramble! :D

Actually.. first of all a quick heads up. Model's Own are offering 50% off ALL their products for 72 hours only, from Friday until midnight GMT on Sunday. Use code FIFTYFIFTY at checkout – I know that if I've got money left over from IMATS I'll be trying out a few of their nail polishes!

But anyway! China Glaze TTYL. I love that polish SO MUCH! I featured it in my Top nail polish of 2009 post, but it really needs it's own special loving.
When I can't be bothered to do Konad or a freehand nail design, I always turn to this colour 'cause it just looks so stunning on it's own. It has reasonable longevity, too – this is after nearly 3 days of wear with no topcoat. This is one of my favourite ever holo polishes :) what are your favourite holos? Take a look at the deliciousness close up!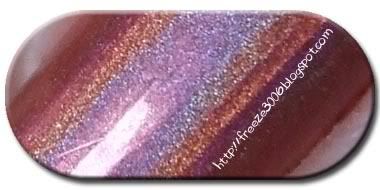 Secondly, one of the Konad plates I got for Christmas was M65. I really liked the look of the geometric sort of pattern on it but couldn't imagine a good colour combination for it and for that reason it took me this long to try it. What made me get round to it was this post from Konadomania – she'd used Essie Mint Candy Apple as the base colour and stamped with white and it looked so awesome and retro, it reminded me of the 60s! I don't own Mint Candy Apple, so I went with the closest thing I did have which is Sportsgirl Apple, quite a lot more dusty looking than MCA but less blue than Barry M Mint Green.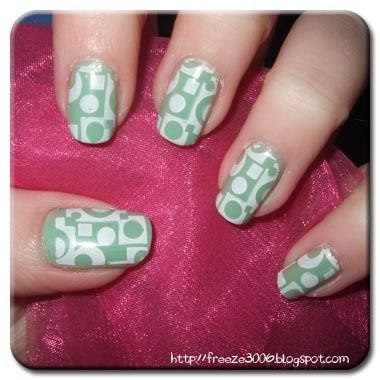 And lastly… GAH I'm so excited for this weekend. If any of you don't know that this weekend is London IMATS, then I haven't got a clue where you've been! Haha. I'm so looking forward to meeting everyone! Are you going?
I haven't got a CLUE how I'm going to do my nails.. *panic*!