I tried twice this week to do cool manis with my dotting tools… but wasn't largely successful.

I did these at some point over the weekend: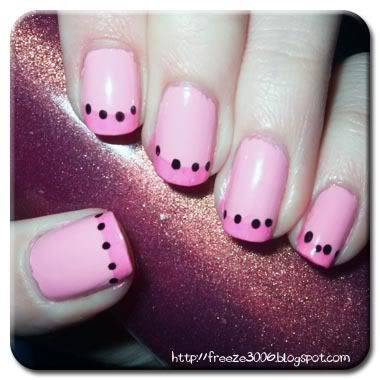 Base color was George Sherbet Fizz, tips stamped with Konad M19 (SO hard to uuuse) and Eyeko Punk Polish, and the dots were done with Color Club Dark Romance and a dotting tool. Seche Vite topcoat. I did kinda like these but they chipped really quickly :( and the flash washed the picture out loads for some odd reason, the contrast between the two pinks was more obvious in real life.
Then I really couldn't be arsed for a couple of days, so was just wearing China Glaze FYI. Sadly I couldn't even get a good picture of it 'cause the sky's been so miserable all week, and flash makes it look more holo than it really is.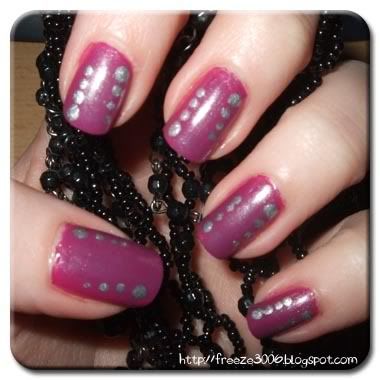 Next, I did these.. which I really didn't like. Two coats of Barry M Bright Purple (303), 1 coat of NYX Dream made up the base colour. Then I used various sizes of dotting tools with Color Club Smoke & Mirrors. You can't see that well, but I had bigger dots on the bottom left and top right corner of each nail, then graduated into smaller dots. Pretty sure I used OPI DS topcoat here.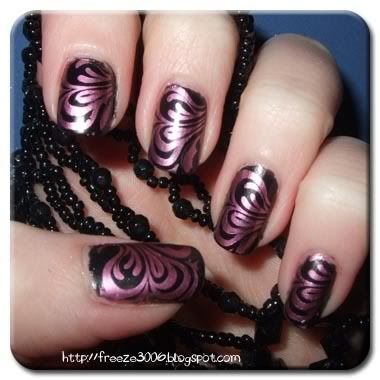 This was massively inspired by Brooke, who did an awesome mani using matte black and a metallic lilac sort of colour. I used Color Club Dark Romance (a matte finish black) for the base colour, and stamped using Konad plate M63 (which is rapidly becoming one of my favourites) and Miss Sporty 205. I loved the way this looked but knew that without a topcoat it wouldn't last, so I decided to go for China Glaze Matte Magic…
:( I much preferred this before the matte topcoat. Also I managed to smear the Konad design quite a bit whilst applying the topcoat.
All in all, this week has been a bit of an epic mani fail for me!