YAY! Thank you so much :)
I know it's a cliché but when I started blogging I never dreamed I'd get this far – everyone says this I know, but I was sooo excited when I got 5, then 10, then 20, then 50… It's just all grown so quickly :)

I'm not one for getting all soppy so I'm not gonna gush at you, but thank you all so much for being interested in what I have to say. No one IRL really takes me seriously or listens to me so it's nice to know that there's 300 (well, 301) of you out there that do! Thank you. :D

I know the prize doesn't look like much – I see some amazing giveaways with awesome prizes going on all the time but if you know anything about my personal life you'll understand why I can't afford to do too much right now! I hope to be able to make it up to you next time I do a giveaway. So here's what you could win this time round!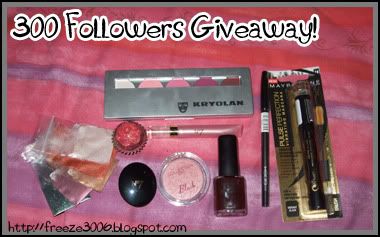 - Kryolan Shades Palette in Abu Dhabi: THIS IS NOT BN! Please bear in mind I bought this for myself and used it once, but mattes aren't really my thing. It's completely sanitary.
- Maybelline Pulse Perfection mascara
- GOSH Velvet Touch eyeliner in Black Ink
- 5 generous samples (almost 1tsp) of The She Space pigments – The Mirror Loves Me, Tangy Taffy Twist, Because I Said So, Minimal Damage, Asylum
- Super adorable cupcake lipgloss
- Collection 2000 Blush (love these!) in Trouble
- No7 Liplicious Gloss in Marshmallow*
- No7 Stay Perfect e/s in Antique Rose*
- BYS Nail Polish in Moody Ruby*
*These three items were provided by Jo @ Beautylicious Love, who sent them to me in addition to prizes I won in her recent giveaway but I already had them! If you don't know Jo, you should definitely check out her fantastic blog.
So, to win, here's what you have to do:
- Be (or become) a follower.
- Leave a comment on this page and answer the question below. Don't forget to leave your email address in the comment so I can reach you if you win!
You are only allowed FIVE beauty items for the rest of forever! Which five would you pick? Don't worry about skincare and haircare. Give me 5 makeup products, but one of them HAS to be a tool! e.g. a certain brush, eyelash curlers.
DON'T FORGET TO LEAVE YOUR EMAIL ADDRESS!
- Your entry will NOT be counted if you just say 'enter me'. Read what you're supposed to do!
- Feel free to spread the word if you feel so inclined, but there will be no extra entries given for this. I want this to be as fair as possible!
-Yes, it's open worldwide as long as your country accepts shipments of cosmetics.
Entries will close on 06 Feb at midnight GMT. Good luck!