Before I start rambling on as per, I was tagged by Dottie for the Kreativ Blogger tag and by Anca for the I love your blog award. I've already done both of these tags, but thanks much to those two ladies! ^__^
Okay so like, a week and a half after I originally intended to get this up, here's the swatches of my little Sassy Minerals haul. I love the design and layout of their website – so clean and professional. I hate to be overly critical but I find that a lot of indie makeup companies have really poorly designed websites – this is brilliant. Sample sizes of anything (foundations etc, blushes, eyeshadows, liners) are just $0.75! Sassy also give two free random samples with every order (even if you're just ordering samples anyway). This effectively means I got 10 samples including shipping for a grand total of $9.96 – approx £6 :)
(As with my Lisa Kate Swap swatches, these all feature a dry swatch on the left and a foiled one on the right except the blushes which are just dry)
The first thing I added to my basket was their blush in 'Tart' – the description claimed it would remind me of NARS Orgasm. I don't actually own Orgasm but I borrowed it from a friend once and from what I remember of O, and swatches I've seen of it all over the place, this is certainly a reasonable match! I also got Chick Flick blush, described as a 'warm rose shimmer'.
Next, I thought I should pick up a good matte highlight colour. Another excellent thing about the Sassy website is ease of navigation – they have their product type tabs at the top; 'So Cheeky' for blush, 'Eye Candy' for eyes etc, and each of these has subsections titled 'Shimmer', 'Silk Lustre' and 'Deja Vu'. Obviously Shimmer filters results to give you shimmery products, and Silk Lustre will show you the mattes. Deja Vu sections exhibit Sassy products that are meant to be dupes of other brands' products. I grabbed Sensible Shoes from the Silk Lustre section as a highlight colour but this was the only matte I got. I remembered seeing Fashionista on Lisa Kate's blog some time ago and decided I needed that!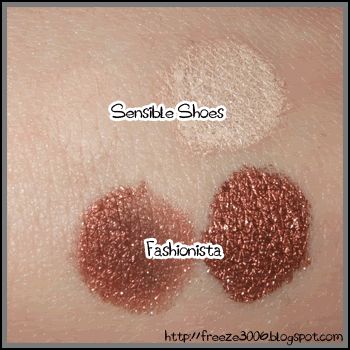 Then I tried to hunt out a pretty golden green. I went for Bad Attitude, described as 'deep olive with golden flashes'. It's extremely helpful that the pictures on Sassy's website are reasonably similar to what actual product swatches look like. One of my free samples was Truth or Dare, which I love pairing on the inner corner when I use Bad Attitude as it's more or less just a paler version of it!
I also picked up Lyrical, a 'deep smokey green with intense green and aqua sparkle' – although I personally think this is more of a blue! My other free sample was Taste The Rain, a lovely light silvery blue which looks great with Lyrical.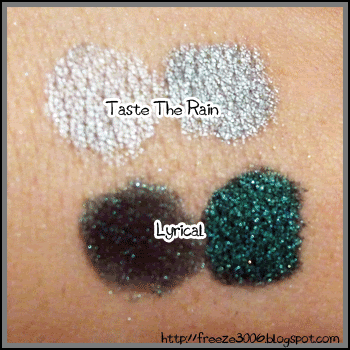 I was also intrigued by Why Not? When I saw it on Lisa Kate and Phyrra's blogs, so I picked that one up too. Lastly, I had a look through their 'liners' section and due to the same blogs I picked Gasoline Rainbow. These two are so beautiful and sparkly! I had to include a blurry picture to show off the sparkle. Also, there are three swatches for Gasoline Rainbow – the one to the far right is swatched over Fyrinnae's Pixie Epoxy. Yes, there WILL be a seperate post about that at some point.. some point! :D
So there's my little Sassy haul – I'm definitely tempted to go back for more blushes. :) I'm not going to give a specific date for the next lot of swatches but it'll probably be Allure By Jen. I know I'm approximately forever and a day behind the times with this post scheduling thing, I just never thought of using it before :D so this should be up some time on Thursday afternoon while I'm working. Yknow what Blogger needs? It needs a link with Twitter. Whenever I update my blog I always tweet 'New blog post: Post title (link)', but obviously I can't do that if I schedule a post for when I'm not around. Tumblr has what I'm on about – when you post on Tumblr it automatically updates your Twitter with a link to it. Anyway, it's not gonna happen and I'm just rambling now. Byebyebye! ^_^