A couple of weeks ago, Kim (Dottie_K) and I decided to split an order on dollarnailart.com (since their minimum order is $25 and shipping to UK is at least $10.40). The website doesn't look like much but EVERYTHING is a dollar. It's seriously worth checking out! And if you can't afford/don't want $25 worth of stuff (plus shipping) by yourself, do what we did and split an order! (I paid and had it shipped to me, Kim paypal-ed me her part of the money and I mailed her stuff on).

Soo here's what I got:
A packet of assorted coloured pieces of striping tape, black glitter and pink glitter
Six different transfer foils and foil adhesive (order 6 foils and they throw in an adhesive for free)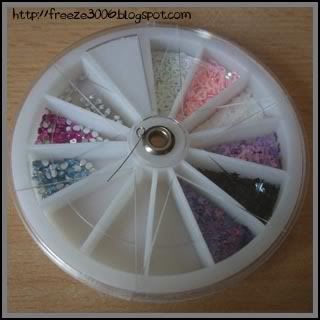 Packets of: hollow white hearts, hollow pink hearts, white butterflies, purple butterflies, black stars and purple stars. The three kinds of rhinestones on the other side of the wheel were from elsewhere (see below)! I also ordered a few of these carousels 'cause I knew I'd need them for storage.
Don't forget to keep an eye out for a post on Kim's blog to see what she got! Well, presumably she'll blog about it :D haha.
At some point last week, Sian told me she'd bought a nail art kit in Poundland with a whole bunch of decorative shapes and gems. A few days later I happened to be in a town with a Poundland so went to take a look on the offchance I might find what she was on about and I DID! Haha I was way happy. It came with a file/buffer (not sure of the quality, I won't be using it – I've been totally converted to the OPI nail file I got from Helen), two wooden sticks for picking stuff up, and FIFTEEN, yes 15 different little packets of awesomeness. All for £1! The carousels I bought from dollarnailart have only 12 compartments each so I filled one up and put the remaining 3 packets into the other carousel, as you saw above. But here's the rest!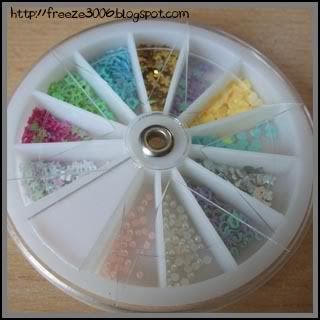 Not sure how well you can see but there's a cute assortment of flowers, hearts, stars and pearls. :D
And last but certainly not least, I finally got some dotting tools! I can't believe it took me so long to get some – what indispensable tools :D
Because I don't want to make this post too long, I'm gonna do another right after this. See you in a minute ;D