So ever since I got my Konad, I've totally ignored the nail art pens I got from eBay months ago. Woops. But I prefer to think they've just been in hiberation rather than been neglected. Soo, over the last couple of days I've been making a special effort to include them in my polish play. So I present to you, four manis sans-Konad!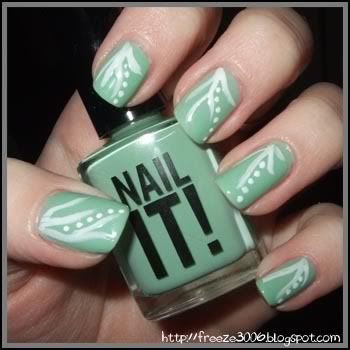 I LOVE this colour. It's Sportsgirl Nail It! in Apple, courtesy of the lovely Jacie. This is everything I wanted Barry M Mint Green to be! It applies like an absolute dream, too. Anyway yeah, raves on the colour, not so keen on my crappy half-assed little design, haha. A few swirls and dots with the white pen.. yup!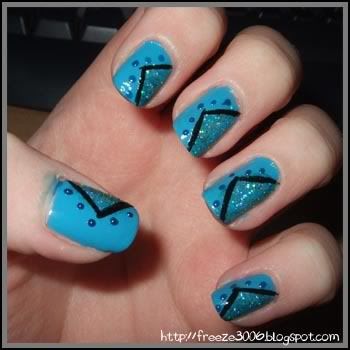 Base colour for this one is Barry M Cyan Blue, then using the edge of a foundation sponge I stippled in a bit of China Glaze Atlantis (thanks Brooke) in a roughly triangular shape from the left hand side. Then I lined the edges with the black pen, and added the dots with the dark blue pen. I would have preferred to use the black for the dots too, but the dotting part was all clogged up and the needle that's provided to unblock them just kept bending when I tried to unclog it.. *sad*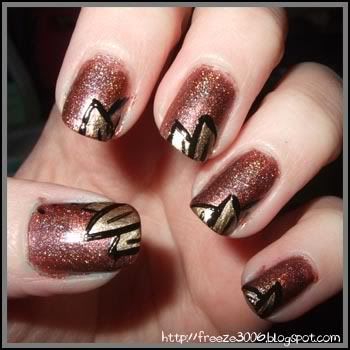 Started getting a wee bit more adventurous.. haha. Base colour is Glitter Gal dark brown holo (another one from Jacie), then using a sponge I stippled on the top left hand corner with the polish from a coppery coloured nail art pen. Theeen I used a tiny little artists brush to do pointed teardrop shapes in the same corner with China Glaze Passion, then to make those look a bit more like the flower petals they were supposed to be I outlined with the black pen again.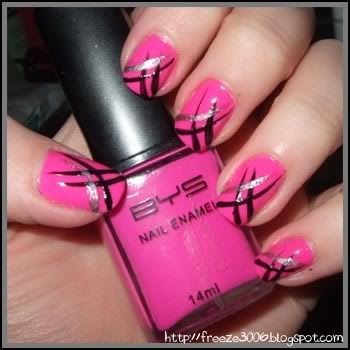 The others are definitely meh, but I actually really like this one! It appears that keeping is simple is definitely the most effective route. Base is another Jacie polish – BYS Pink Panic. GORGEOUS! Haven't got any pinks like it! Then the strokes/ribbon type things were done with the black pen except for one one each finger which was done with a metallic silver pen, then gone over with a glittery silver pen when that was dry. I'm actually quite proud of this.
So how do you like them? Be honest – I want to get better at this freehand malarkey so honest opinions and suggestions much appreciated girlies! :)