I must say, GOSH have excellent customer service!

A couple of weeks ago, I went into a Superdrug store with the intention of picking up some GOSH stuff but the display was disgusting. Customers obviously had no regard for the tester items and had opened damn near everything on the stand, and everything was all smooshed up and gross.. :(

So, I found a contact email for GOSH and told them about it, giving the address and telephone number of the Superdrug branch concerned. A few days later I got a reply from Rikke Mogensen, GOSH's Export Area Manager, thanking me for alerting them to the issue and asking for my postal address so they could send me a few items! Very pleasantly surprised, I remembered my late grandmother and how she always used to complain to companies about the tiniest little thing and get compensated with a bunch of products – I should become a professional complainer, it looks like it pays off! Haha or maybe it's just GOSH's great service.

So anyway, I replied to their email with my address on Monday night, and this afternoon I received a package from GOSH all the way from Denmark, by FedEx. I'm so impressed with that, I wasn't expecting to get anything before the new year!

They sent me a nice letter thanking me again for the feedback, along with a Light & Shine Lipglaze, and four Velvet Touch liners. One of the liners was Black Ink, which I already have, so I've put it aside along with another couple of items I've been saving for my next giveaway (which will be at 300 followers).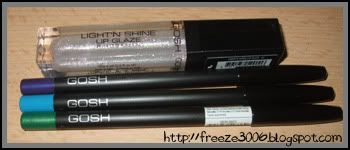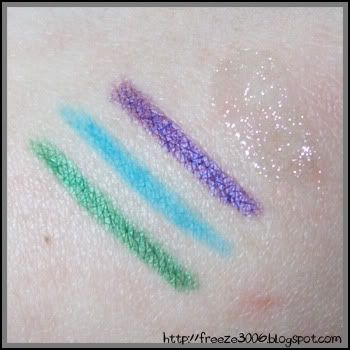 L-R: Velvet Touch liners in Green Grass, Blue Lagoon and Purple Stain, Light N Shine Lipglaze 01
I absolutely love the formula of the Velvet Touch liners, and I haven't opened the lipgloss yet so I can't say an awful lot – but I'll try to get a full review up in the new year!
The moral of the story is, complain! :D Hahaha.
Merry Christmas girls, I hope you all have a great time and get all the gorgeous presents you want! :D I will be posting again on Boxing Day or Sunday, so I'll wish you a happy new year then, hehe.
Disclaimer: Even though I stated it above, here it is again for the sake of any FTC stalkers: I DID NOT pay for the products featured in this post, they were sent to me free of charge by GOSH Cosmetics as thanks for alerting them to an issue regarding the company, not for review purposes. GOSH Cosmetics are not even aware that I am a blogger, as far as they're concerned I am simply a customer who complained.