You know you've got loads of parcels on their way to you but they're all taking so long to arrive, then they all arrive at once? :D Kinda like what happened with my mineral haul. Well it happened again – my nail wheels finally arrived yesterday! So I set about swatching my entire collection of nail polishes. You wanna see? Of course you do! ;P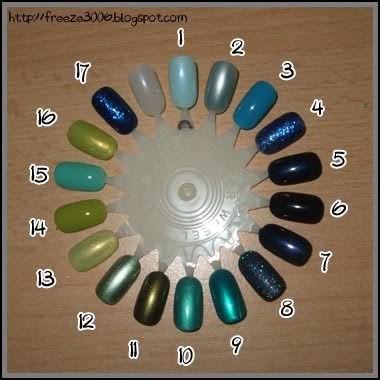 Blues and greens:
1. Eyeko Pastel Polish
2. NYX Ocean
3. Barry M 294 Cyan Blue
4. Model's Own Bluebelle
5. Maybelline Forever Strong Midnight Blue
6. Eyeko Vamp Polish
7. OPI Russian Navy
8. Originals By Brooke Russian Gravy
9. Boots 17 Peacock
10. Maybelline Colorama Jellybean
11. Guppy 77
12. China Glaze Cherish
13. OPI Sit Under The Apple Tree
14. Barry M 137 Lime Green
15. Barry M 304 Mint Green
16. Sit Under The Apple Tree over Lime Green
17. Bluebelle over Russian Navy
Purples and yellow:
1. Clatty nail color 312
2. Rimmel Vinyl Stars Twinkle
3. Collection 2000 Hot Looks Dynasty
4. NYX Dream
5. Miss Sporty 205
6. Miss Sporty 209
7. Barry M 303 Bright Purple
8. Rimmel Lasting Finish Underground
9. Bourjois So Laque! Bleu Violet
10. Constance Carroll Eclipsed Earth
11. NYC Nail Glossies Cognac Sparkle
12. Some unbranded/unlabelled purple!
13. NYX Dream over Dynasty
14. NYX Dream over Bright Purple
15. NYC i114a
16. Barielle Shades Lemondrops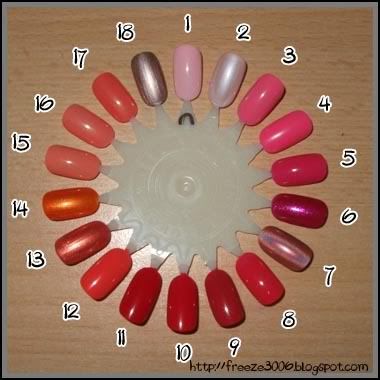 Pinks, reds, corals:
1. Eyeko Pretty Polish
2. Boots 17 Pinking Shear
3. Collection 2000 Hot Looks Hoola Hoop
4. Eyeko Punk Polish
5. Barry M 272 Shocking Pink
6. Collection 2000 Hot Looks Vixen
7. China Glaze TTYL
8. Boots No7 Pink Grapefruit
9. Boots No7 Rose Truffle
10. Maybelline Express Finish Cherry
11. Eyeko Saucy Polish
12. Barry M 297 Coral
13. Rimmel Lasting Finish Heated
14. Barry M 136 Tangerine
15. Guppy 33
16. NYX Sorbet
17. Sorbet over Barry M Coral
18. Miss Sporty 203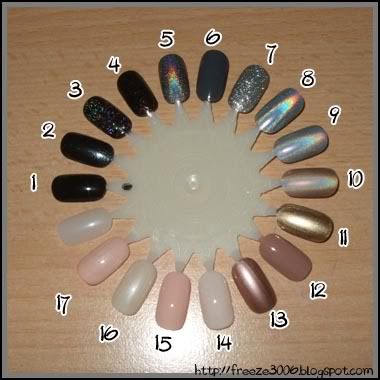 Monochromes, golds and neutrals (these are my favourites!)
1. NYC Nail Glossies Black
2. Collection 2000 Hot Looks Intense
3. GOSH Bright Passion (over Black Nail Glossies)
4. China Glaze Fortune Teller
5. China Glaze Let's Do It In 3D
6. Barry M 293 Grey
7. Eyeko Disco Polish
8. GOSH Holographic
9. China Glaze OMG
10. China Glaze FYI
11. China Glaze Passion
12. Guppy 25
13. Rimmel LycraPro Posh Trash
14. Bourjois So Laque! Rose Lounge
15. Barry M 124 Pinky Caramel
16. NYX Natural
17. NYX Natural over Pinky Caramel
I was very, very disappointed to discover I only had 62.. it looked like a lot more than that looking at bottles! Haha. Still, not a bad collection I don't think. Well, 62 was the number in my collection as of December 1st. Today, December 2nd, I got three packages! One was the Illamasqua no13 lashes I bought from Wayne Goss's sale, one was unmistakably another box from Brooke, but I was puzzled as to what the last one was. Turns out it was from Jacie! :D Oh my word I was so excited – although I'm still puzzled as to why there's no indication of international postage on the package from Jacie, haha. So in the space of a day, my collection managed to grow an impressive amount! Take a look at these.. First, the package from Brooke.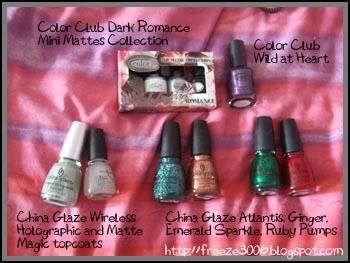 I've been so excited about the matte topcoat – I know I'm so late jumping onto that bandwagon but better late than never, right? I can't stop myself from mattifying everything in sight, glitters look especially amazing! Thanks a lot Brooke :D
And here's what I got from Jacie: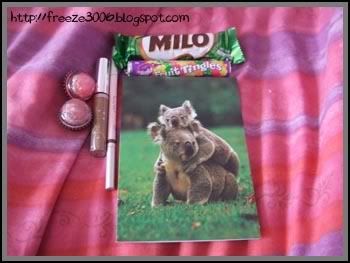 A sweet note in a Koala bear card (had to be something typically Aussie in there didn't there? In case you're unaware, Jacie is from Australia and we're doing a swap), sweeties! (These look like Refreshers but I haven't had any yet so can't report back), a Milo bar (god damn this was so nummy, it was a bit like a Lion bar but with more caramel and some brownie bits.. om nom nom), two of the CUTEST little cupcake lipglosses, an eyebrow pencil and some tinted brow gel – I wonder if she's been looking at my EOTDs and thinking my eyebrows need some grooming? Charming ;P
And here's the rest of the goods!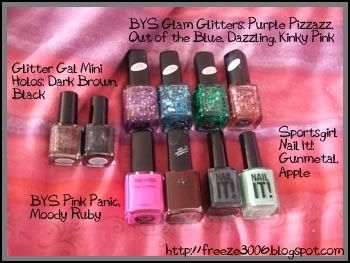 I've been gagging to try out Glitter Gal holos ever since Jacie swatched them on her blog – my word, they are beautiful! I mattified the brown earlier, sooo gorgeous.
So, a massive huge THANK YOU to Brooke and Jacie for expanding my collection for me XD