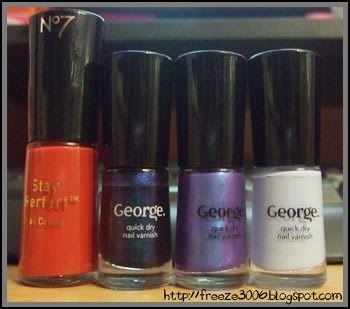 I was lucky enough to be sent a few George @ Asda polishes by my good friend Charlotte, as my local Asda doesn't sell them.. pah! But yeah, biiig thanks to Charlotte – these are lovely! She sent me Ultra Violet, Indigo Dazzle and Frost Bite. I'm loving my dark blues at the moment so Indigo Dazzle is a very welcome addition to my polish family, and I've been wanting a decent opaque light blue for AGES – my favourite is Eyeko Pastel Polish but it's such a bugger to apply so I'm loving Frostbite too. You can see these two polishes showcased further on in this post. I'm yet to try Ultra Violet, but it has of course been swatched on a nail wheel and I've got a design idea in the back of my mind for it :)
You might be wondering why there's a No7 polish bottle there too – when I took the George polishes out from the bubble wrap my first thought was 'ooh these look just like No7 bottles' – I checked, and they do! Haha :) although I do prefer the George ones, smaller and more cutesy :) and MUCH better value for money of course!
Now I'm going to break the probable monotony of all my nail ramblings recently, and give you an EOTD. Just 'cause I haven't done one in aaages! I haven't even been wearing eyeshadow very often in the past couple of weeks, I've just been throwing on eyeliner and mascara. But here we go, a smokey blue kinda thing: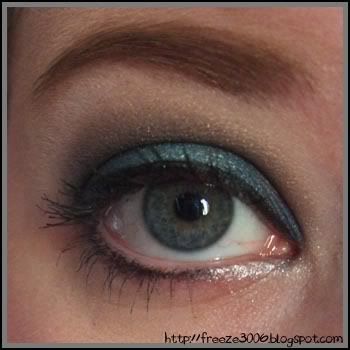 Naturally, I started with UDPP. Then, I applied a thin layer of Bourjois Shimmering Shine liquid eyeshadow in Gris Platine on the lids and blended with my finger up to the crease. Gotta be SUPER quick with blending these, they dry like lightning and once they're on, they're on! I placed Fyrinnae Sleepy Hollow on the inner 1/3 of my lids, and Barry M Dazzle Dust in Midnight (80) on the remaining 2/3. Next, I used the matte black from Kryolan Shades palette in Berlin blended right into the crease, followed by the dark grey from the same palette blended a little higher up for a smoother transition between that and my highlight colour: MAC Vanilla pigment. Of course I used my HG liner, Maybelline Line Definer in black on my upper lashline, and also GOSH Velvet Touch liner in Black Ink smudged across the outer 2/3 of my lower lashline. I brightened up the eye by sweeping a touch of The She Space; The Mirror Loves Me on the rest of the lower lashline. I used Maybelline Lash Stiletto and Colossal Volume mascaras, and Anastasia brow gel. That's it!
And now.. please don't kill me; more NOTDs.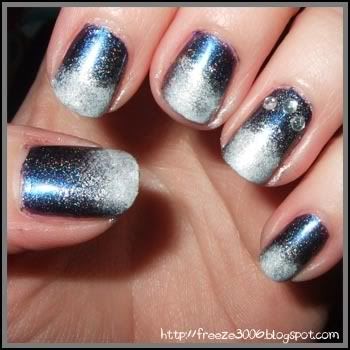 This was meant to be snow inspired, I hope you can see that..! Haha. I used George Indigo Dazzle for the base colour, and when that was dry I sponged Color Club Smoke & Mirrors (silver) down the tips. After the silver had dried, I sponged a bit of Color Club Alabaster (white) as lightly as I could over the silver but I forgot how opaque that white is! Haha so I kinda ruined the effect a bit. I applied three rhinestones around the bottom of each ring finger, and finished with China Glaze Wireless holographic topcoat – I think the topcoat really pulled the look together as the holo glitter particles blended so well with the sponged silver and made it look much more of a gradual gradient. I really liked this mani but unfortunately the white and silver started wearing away at the tips so quickly! :(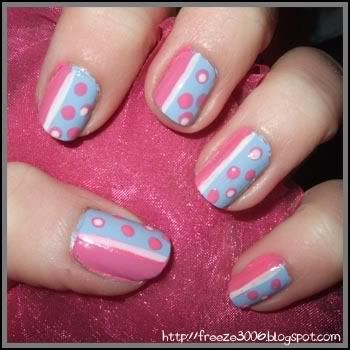 When I'm stuck for what to do with my nails, I ask the boy for a colour combination. This time he said 'light pink and light blue', so that's what I did and I was dying to play with my new dotting tools! Base colour was George Frost Bite (SO opaque.. pretty much a one-coater but I did two because I'm like that). Then I added a pink line on the right hand side of the nails, approximately 1/3 of the nail width – this was Collection 2000 Hot Looks in Hoola Hoop. Sorry I haven't bothered cleaning up properly, haha. To neaten up the line between the pink and the blue I used a white nail art pen from eBay. I used the largest head from my dotting tools to add pink dots to the blue parts of the nail, then a smaller one to add white dots to two of the pink dots on each nail :) then finished up with OPI Designer Series topcoat. I'm liking this one quite a lot too!
Also, I want to say thank you to Claire (Adorning) for giving me a shout out on her awesome blog! *Hug*