(*Disclaimer: I am not Scottish. I am very much from Essex. Haha)
Hey! Ugghh this has been a LONG ASS WEEK! Work has been so busy that I've not had the energy to do anything when I get home of an evening. :( But I have SO much to look forward to right now – specifically, a whole bunch of packages! Here's what I'm waiting on…
The She Space/About Face order from their $2.50 blowout sale

Little sample hauls from Fyrinnae and Sassy Minerals (and Allure by Jen, but that arrived yesterday!)

Nail art practice/display wheels from eBay to satisfy my need to play with nail polish whilst also adhering to the no-polish-at-work rule!

Rhinestones and other bits and pieces from eBay

Another little polish haul from Victoria Nail Supply being shipped to me by Brooke – including China Glaze Wireless Holographic and Matte Magic topcoats :D

A trio of 3 Illamasqua glosses from gossmakeupartist's blog sale – for £15!

Last but certainly not least, Lisa Kate and I are having a swap! We're mailing each other 20 samples of loose eyeshadows – fun! :D Hers are all bagged up and ready to go, just gotta get to the post office on Monday.

Yaayy. Although.. I have been spending a little too much money. I only need to buy Christmas presents for three people though, and I mostly know what I'm getting for people so after that, I'll be saving up for IMATS in January. Wahey!

I managed to get a couple of semi-reasonable non-flash pictures before work this morning! Can you believe it? Here:
I used The Body Shop eyeshadow trio in Cool Dusk for this look, it's very soft and subtle for me isn't it? I even used white in the waterline (NYX jumbo pencil in Milk). But then after I took this pic I decided I needed thicker eyeliner on the upper lashline, and I switched Milk for Black Bean. Lips are GOSH Darling!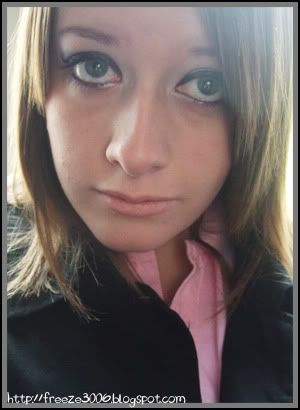 I'll try my hardest to post something a little more substantial and worth your time tomorrow since I finish at 2. Hope you're all doing well!