I've been really lagging behind with my tags, woops. Here are the ones I have outstanding, all in one post! I'm not going to tag anyone in particular for the first two, so just do them if you want to!

(I found all the product photos used in this post through Google Images, I was too lazy to take my own photos)
3 for

First of all, Sophie (Sophie's Realm) tagged me with the 'top 3 products for under £5′ thing – I'm sure someone else tagged me for this too but I can't for the life of me remember who it was :( give me stern words in the comments if it was you! For this one you need to list your three favourite products that cost less than a fiver; one haircare, one skincare and one makeup item. If you're in the US, £5 in dollars is about $8.20 at the current exchange range but I'm sure under $10 would be fine, haha. Anyway!
Haircare
L'Oreal Studio Architect Styling Wax – I would have picked my faithful Tresemme Heat Defense but I've mentioned that in a tag before and lots of people have picked it for this one. But this wax/gel (funny texture but lovely) is what I use for taming any flyaways and giving a bit of direction to the ends. I'm not much of a hair person really! This is about £2.50-3 in any Boots, Superdrug, large supermarkets etc.
Skincare
Good old Strawberry Chapstick! – Couldn't be without a decent stick of lipbalm. I'm not keep on pots of lipbalm at all, it gets stuck under my nails and seems a bit unhygienic. £1-2 depending on where you buy it from.
Make-up
Collection 2000 Glam Crystals and Glam Metallics liners – I only have one Crystals and one Metallics at the moment (both bronzey colours) but I'm so impressed I asked my sister to get me some for Christmas. The metallics have such an excellent colour payoff (far superior to the Barry M metallic liquid liners actually, not to mention a better brush applicator) and the crystals lay down such an excellent amount of glitter. These normally retail for £2.93 in Boots/Superdrug but there's often a 2 for £5 offer and at the moment, Superdrug are offering 3 for 2 across all makeup. Another less than £5 product I love is Natural Collection's Moisture Shine lipstick range at only £1.95 but again, lots of people showed that some love in this tag!
I hit pan
The gorgeous Jo (Beautylicious Love, previously All Things Beautiful) tagged me for this 'I hit pan' one. I need to list 6 items I've 'hit pan' on, or used up and have/will repurchase(d). ;D These can be anything cosmetic – makeup, skincare, haircare, fragrance etc.
Soap and Glory Flake Away body scrub
I'm on my second tub of this (the first one I got was a mini tub, on a big one now). I get horrible dry skin on my feet, particularly my heels from walking so much so this buffs them up nicely in the shower. :)
Rimmel SpecialEyes kohl pencil (161 Black Magic)
Okay so in general I really dislike Rimmel as a brand.. love their nail polish but I tried their mousse eyeshadow once – total disaster of a product. Then I tried a powder eyeshadow which was a total ripoff – first layer was beautiful but underneath it was muddy, chalky and disgusting. Their lipsticks that came in purple tubes (can't remember the name) smelt like car air fresheners which make me feel sick. Not to mention I HATE Kate Moss and Lily Cole (love Sophie E-B though). BUT.. when I was 11 or 12 this was the first eyeliner I ever bought and have just continued to buy it whenever it gets too short. In the last year or so I've discovered much nicer black kohl liners for the lashlines, but I hate to admit this is STILL the only thing I've found that shows up and stays in place on my waterline. Blah.
Garnier UltraLift moisturiser
Right – the one I use isn't for 'intensive dry skin' but this was the ONLY product image I could find that's not the new 'UltraLift Pro-X' version. I've used both, but I distinctly prefer this original one, it's consistency is a little thicker and I find it far more effective but unfortunately Pro-X seems to be replacing it entirely, I can very rarely find this one anymore :( yes it's an anti-wrinkle one, but you can never start too young!
Revlon Colorstay (150 Buff, Oily/Combination skin)
This is the second foundation I ever repurchased. First was Maybelline Dream Satin Liquid but that was the only foundation I'd ever tried at the time and hadn't been wise to the ways of a full coverage foundation which is something I need! I actually think I need to try the shade Ivory as Buff seems just a tiiiiny bit too dark for me (not noticeably), but I can't find it ANYWHERE. :( But yay for finding a product image that displays the exact product I use, right shade and skin type! Haha.
Maybelline Pure.Cover mineral concealer (02 Natural)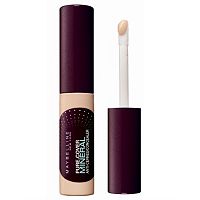 My HG concealer. 'Nuff said. Technically, I've never purchased nor re-purchased this. Got my first one at the Maybelline bloggers' event, and Colin bought me a back-up when I complained about running low. Win ;D
Eyeko Pretty Polish and Pastel Polish
Technically speaking, I never ran out of these. I nearly ran out of them both but I'd had them so long they'd started going really gloopy, and I only reeeally repurchased them because of the huge deal Eyeko did to get rid of their old stock. But I love both of these colours so much, and these are my second bottles, so it still counts ;P
I

Daww :) I was given this award by Bicky (TastesLikeGlitterr) and Dottie (Pinkpoppolkadot), who are both total sweeties! Rules are simply to pass it on to 15 of your favourite bloggers, ones who you check up on all the time waiting eagerly for new posts! If these two ladies hadn't tagged me, I would have put them in my list but it seems silly to tag them back! Let's go..
Charlotte aka Lipglossiping. Probably my favourite blog ever – sorry. Haha but we ALL love her, right?

Jacie (You've Got Nail). The best polish blog on the block. Period.

Nikki (VisualAspect87). I think we're all loving following her pregnancy haha, I for one am so excited for Sprog pictures in a couple of weeks time!

Jo (Beautylicious Love). She's come such a long way in a short space of time on the blogosphere. One of my best blogger friends :)

Pyxiee (Pyxie-Love). Loving Pyxie's blog at the moment!

Sian (MissDollyGal). We were pretty much separated at birth. Sian, you don't post enough DJOOLS Frankly I love her. She doesn't post often but when I'm looking through the reader and I see 'Foshoozley' I practically jump out of my seat.

Lisa Kate (Sparkle is my Crack). Soo many gorgeous mineral looks, reviews and swatches to be seen over here, go go go!

Denise (Kyuubified). She's got some MAD skillz, just wish she'd post more! ;P

Charly (Charly Thinks…). Loving her '5 favourites' series at the moment!

Louise (GetLippie). I always LOVE looking at her makeovers. It makes me wish I had people to play makeup on :3

Carla (Girl With the Golden Touch). I love her awesome non-makeup-related posts, makes a great change in between everything else I read on a daily basis :)

Helen and Sheenie (Nice Things). Yup, they create many a polish lemming and their posts are always witty and fun to read.

Marcia (Let There Be Shopping). Marcia always does excellent reviews that have made my mind up on several products!

Emma (Girl With the Arab Strap). Always love reading Emma's posts, plus she's a stunner!

Phoebe (Peluxe). Excellent all-rounder – great reviews, hauls, FOTDs and other stuff :)
I think a few people might have already done it, but never mind :3