**NOTE** All swatches posted here in the next week feature a dry swatch on the left, and a foiled swatch on the right.

If you've ever swatched between 70 and 80 products in a row, you'll know how much the back of my hand hurt when I finally finished swatching everything. The things I do for you guys!

First up, here's six from The She Space. I know that Scared Silly is a permananent colour, and Crazy For Crabs (yeah I giggled at that one too) is from the Cancer zodiac collection. Judging by the names I assume Wacky Jack, Bubble and Burn and Ghostly Story are Halloween colours, but my favourite out of this lot is The Mirror Loves Me – I think it's from one of the Hope Quest sets but don't quote me on that.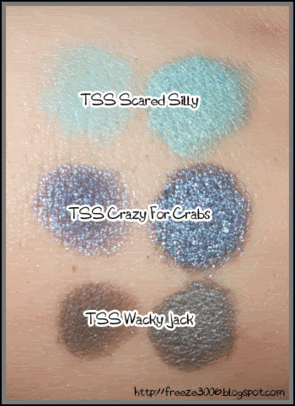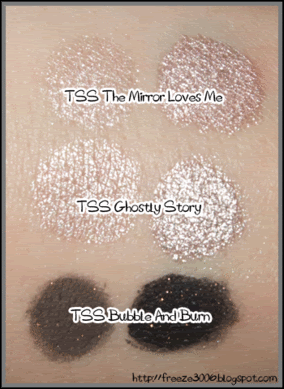 Next up are a handful from Everyday Minerals. This isn't a brand I would have bothered trying out myself, they don't look particularly exciting and the dry swatches aren't anything to write home about. The one I'm impressed with is Shopping Spree – it's just a taupey sort of colour dry, but apply it wet and it magically develops a gorgeous turquoise shimmer!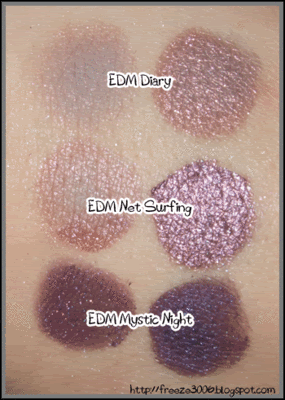 Here's a couple from Pure Luxe. Again, not that exciting applied dry but become very vibrant when foiled. I can't quite decide whether Smug is a pink or a purple.. either way, I like it!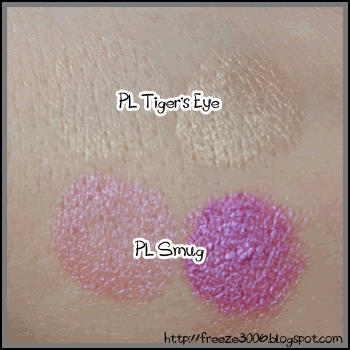 We don't have access to L'Oreal Hip in the UK so I was pleased to be able to try out a few of their loose pigments. I must say though, I found the texture really weird – it's hard to describe, it certainly felt chunkier, like it was less finely milled than most pigments, but it wasn't hard or anything. In fact, it was completely soft.. just chunky. I know that doesn't make a lot of sense XD Hey and check out Intrepid – like EDM Shopping Spree it has a lovely greeny blue shimmer shot through it.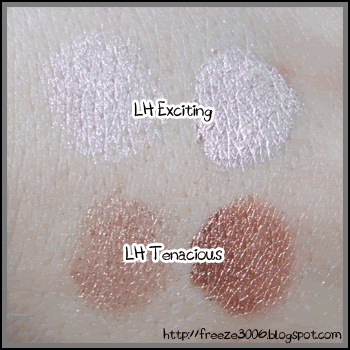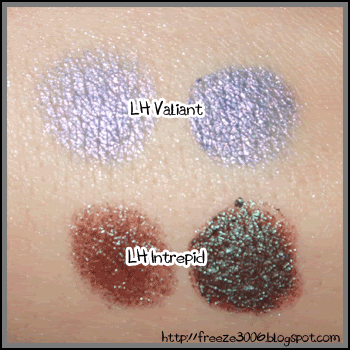 Last but certainly not least, here's some Aromaleigh. I've wanted to try Aromaleigh for quite some time now but never got around to it – now I've had a taste I definitely want to get hold of a few more. The first ones of these I swatched were from the Rocks! collection. Suspect Device was a pretty cool colour (and excellent song) although it's hard to swatch a matte colour wet, haha. I'm super mad at I Want Candy though (which, incidentally, was also an annoying song..) – the wet swatch stained my hand! You can see it in the last two pictures if you look closely. The next three sultry looking colours are from the Bete Noir collection which makes me want to talk in a French accent. I'm particuarly fond of Parcelle, a gorgeous golden green, almost a woody brown.. I don't know how to describe it. Lastly, there's Coney Island – a bright lime green from their Hot in the City collection from this summer, then Wish from the Pure Eyes Frost series, and Ardent, one of their Elemental Lustre shadows. I LOVE this! I'm severely tempted to get some more of these – applied wet they look just like Illamasqua's liquid metals but obviously wouldn't have the annoying creasing problem that's inherent with cream products..
Thanks sooo much for all this Lisa Kate. Can't wait to see swatches on your end!
Since I have another four lots of swatches to show you, I'm hoping to get one up each weekday. So tomorrow, look out for Sassy Minerals! :D