As you probably know, due to my incessant whinging about the subject – I'm not allowed to wear nail polish at my new job. Not only that, but in the first couple of days I managed to break 4 of my nails so I've had to cut them short for practicality. *Siiigh* :(

But today when I got home I played around with that GOSH Bright Passion polish, the weather's been pants here lately so a bit of sparkle was on doctor's orders for cheering up! I tried it over 5 different dark coloured polishes; these ones.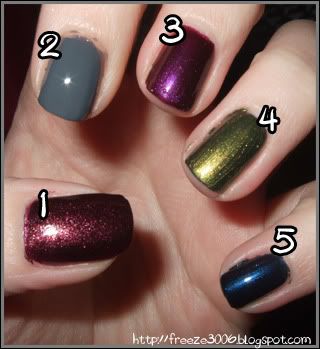 1: NYC 249B (Vernis a Ongles told me this one is called Cognac Sparkle – thanks!)
2: Barry M 293
3: Rimmel Lasting Finish in Underground
4: Guppy 77
5. Maybelline Forever Strong in Midnight Blue
And here they all are with a coat of GOSH Bright Passion on top. CORRR! *Drool*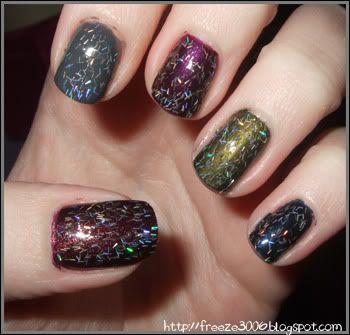 I just love this so much, I love the way the glitters reflect a million different colours depending on how the light hits it. SO pretty! :D Will any of you be picking this up?
I've taken to photographing my EOTD/FOTDs before work. I don't know why *shrug* haha but at least I've consistently got things to post at the moment!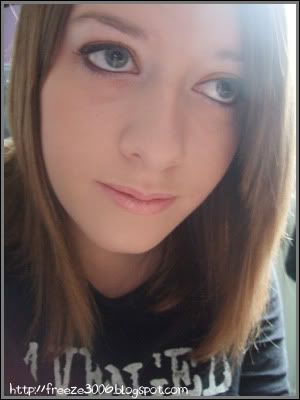 Sorry it's a bit blurry, no-flash pictures refuse to focus when my camera's running on low battery. But you get the idea!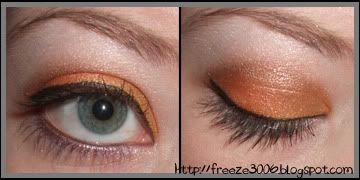 Face
:: Maybelline Pure.Cover mineral concealer in Natural
:: Maybelline Pure.Foundation Minerals in Vanilla Rose
:: Mememe Beautifully You Blush in Glow
Eyes
:: GOSH Eyeshadow Base
:: Sorbet by Beautylicious Cosmetics
:: Collection 2000 Dazzle Me eye dust in Jaffa
:: Barry M Fine Glitter Dust in Old Gold
:: Barry M Dazzle Dust in Lilac
:: Illamasqua Pure Pigment in Involve
:: MAC Vanilla pigment
:: Maybelline Line Definer in Black
:: Maybelline Kohl Express in Black
:: Maybelline Colossal mascara
Lips
:: NYC Ultralast lipstick in Rose Gold
:: MAC Lustre Lipstick in Pretty Please
I'm LOVING Sorbet right now! Such a pretty colour! It's the light golden orange on the inner half of my lid.
What're your favourite colours to wear on your eyes at the moment?