Okay so I totally lied about posting swatches from my mineral haul every day >______

Base colour is Vixen from Collection 2000′s Hot Looks collection – I hadn't noticed this shade before, can't believe I didn't already have it, isn't it beautiful? I was in Superdrug at the weekend picking out some polishes for my swap with Jacie from You've Got Nail and spotted this one, I swear my jaw dropped! I love it.
Anyway, I stamped using Konad plate M9 and the special polish in white. Then I added star shaped rhinestones (from a carousel I got on eBay) to the middle of the flowers on my thumb and ring finger, and dotted the middle of the flowers on the other fingers with a pink shimmer nail art pen from eBay.

After I resigned to removing that pretty mani, I decided it was as good a time as any to try something I've been meaning to do for a while – water marbling. Turned out TERRIBLY! Haha, here's something for you to have a laugh at: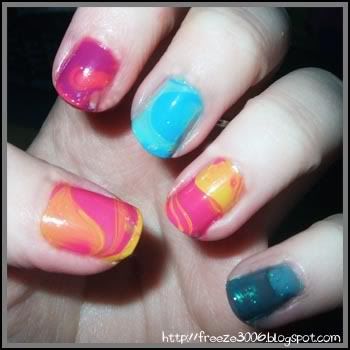 I really didn't appreciate how difficult it was gonna be. You nail blgogers who can do this perfectly have just gained a whole bunch of awe and respect from me XD this is SO MESSY! I'm sure it's a million times easier on long/fake nails. I ended up doing the pink/yellow combo twice 'cause I liked it. I wouldn't wear a multi-coloured mani like this I don't think, I was just playing with colour combinations. I managed to chip and smudge it SO MANY times!
Thumb & ring: Barielle Shades in Lemondrops, Barry M Shocking Pink
Index: Barry M Bright Purple and Coral
Middle: Barry M Cyan Blue and Mint Green
Pinky: Barry M Grey and Boots 17 Peacock
And now I REALLY have to go to work. *Sigh*