I have a couple of tags to do but instead of throwing them in a post together I'm gonna space them out over the coming week. Instead, take a look at the EOTDs I did today! Well, I guess you could say the first one is my EOTD 'cause I wore it for work, the second one is just my EOTN technically 'cause I needed something to entertain myself while the rest of the country was watching the bloody X Factor.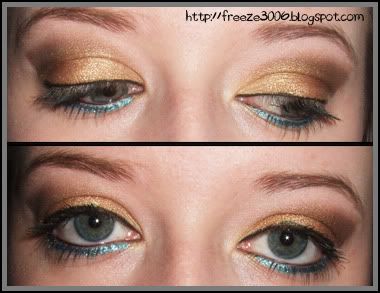 I actually quite like this. I used GOSH Eyeshadow Base all over before applying tape to the outer corners. I used the brown from Kryolan's 'Santiago' Shades palette with a fluffly brush from the tape inwards, creating the shape I wanted and stopping about 1/3 of the way into my eyelid. I finished blending and shading my lid in with the two lighter golden colours from the Santiago palette but decided they needed to be a bit more bronze.. so out came the Urban Decay Get Baked palette and I touched up the golds with Baked and Half Baked eyeshadows to darken them up a bit. I removed the tape and used Iced Peach from AllureByJen as a brow highlight. Then, I created a base for my lower lashline with Maybelline Kohl Express in blue, and used the Get Baked palette (Flipside e/s) and the Santiago palette (dark blue e/s) to set that. For extra sparkly awesomeness, I coated the blue on my lower lashline with Beauty Box blue glitter liner. I lined my upper lid with my favourite Maybelline Line Definer, and lined upper and lower waterlines with NYX Jumbo Pencil in Black Bean. I finished off with Maybelline Pulse Perfection mascara. :)
And here's what I did this evening: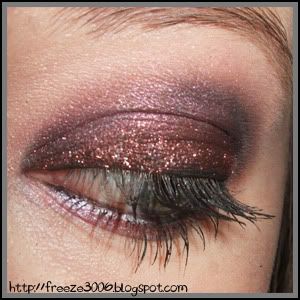 I actually filmed myself making this one up as I went along just for the fun of it – but I'm probably just gonna delete it and not upload it anywhere 'cause I ramble like hell and I have such a foul mouth, hahaha. Anyways, it went like this..
Go! Cosmetics gel liner in black used as a base, over the whole lid and extended up a little way past the crease on the outer part of my eye. Apple Cinnamon from AllureByJen is the beautiful sparkly red colour on my lid, which I patted all over the gel liner (and also ran under the outer part of the lower lashline). Then I blended Urban Decay Last Call eyeshadow into the crease, and used Urban Decay Grifter eyeshadow on the inner part of my lower lashline. AllureByJen's Iced Peach was my brow highlight again, and I used the same NYX Black Bean jumbo pencil and Maybelline Pulse Perfection mascara as before. I decided against lining my upper lid because I didn't want to ruin the beautiful sparkliness of Apple Cinnamon!
Blah.. I'm bored now! Someone hit me up on twitter!