I PROMISE I'll get some more of those mineral swatches up next week.. *siiigh* :( haha.

I'm getting really pissed off at how long it's taking my nail wheels to get here. It's been almost 4 weeks now, it was supposed to take 10-12 days. I contacted the seller (who I have used many times without any problems) and they said maybe it's being delayed by customs or something. Still really annoyed though, if it hasn't arrived by the end of this next week I'm gonna start doing some serious complaining!

Anyway, I Konad-ed today. I actually think this is one of my better designs, I really like it! I used OPI Russian Navy as the base colour (thanks Helen!) – I think this is so pretty, at some point (maybe when I get my damn nail boards) I'll swatch it next to Brooke's Russian Gravy ;D haha. For the stamping, I used a couple of polishes I picked up a week or two back – they're Miss Sporty 'Clubbing Colours' metallics, I heard they were good for stamping and they sure are! The ones I used were 209 (a purple) and 205 (a pink). I also picked up 203, a beigey goldy colour with a hint of pink.. hard to describe but since I haven't used it here I'll have to show you some other time.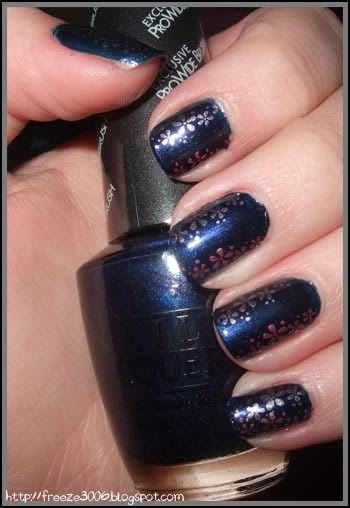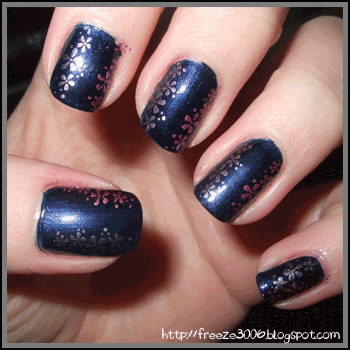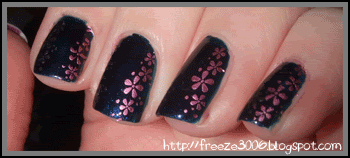 I used a linear flower pattern on plate M9 (love this design, one of my favourites that's not a full-nail one) and stamped pink ones down the left hand side of my nail and purple ones down the right hand side. The coolest thing about it is if you see my nails from an angle from the right, you just see purple flowers and pink for left. I tried to show you this in the last picture! I was so in the mood to play with nail stuff and wanted to start chucking on glitter topcoats and rhinestones but I restrained myself, I think this is beautiful as it is, nice and simple and anything else would have ruined it, I reckon. How do you like it? I'm really dreading taking this one off :(
Anyway, the question I wanted to ask you guys – would you be interested in a sort of Konad Q&A post? I get quite a lot of questions about Konad and I'd love to try and help you guys out collectively by making a post providing as much info as I can. I still think it's weirdly flattering when people ask me questions about Konad and compliment my technique because I know SO many amazing nail bloggers who totally blow my KOTDs out of the water but I appreciate it nonetheless. The only reason I can think of is that I orginally just started out as a makeup blogger, so most of my followers were here for makeup.. and now nails and nail art are becoming more popular throughout the entire community and isn't just restricted to nail blogs. I don't know, either way – would this be helpful to any of you? Maybe you've been deliberating over whether or not to get one for a while and just need that last little bit of convincing? :D I've also been asked by one or two people to do a tutorial, but it'd be far too awkward to do it in pictures (I only have one pair of hands unfortunately.. if I had more, think of all the nails I could paint then!), and I'm too shy to do videos. But I guess if the demand is there, maybe.
While we're on the subject of Konad, I spied on my dad wrapping Christmas presents yesterday – I can confirm that I saw some Konad image plates! Don't know which ones though, how exciting :D
So yeah, be sure to let me know if that post would be of use to you, please! ^__^